Dar apprises USTR Ambassador on govt reforms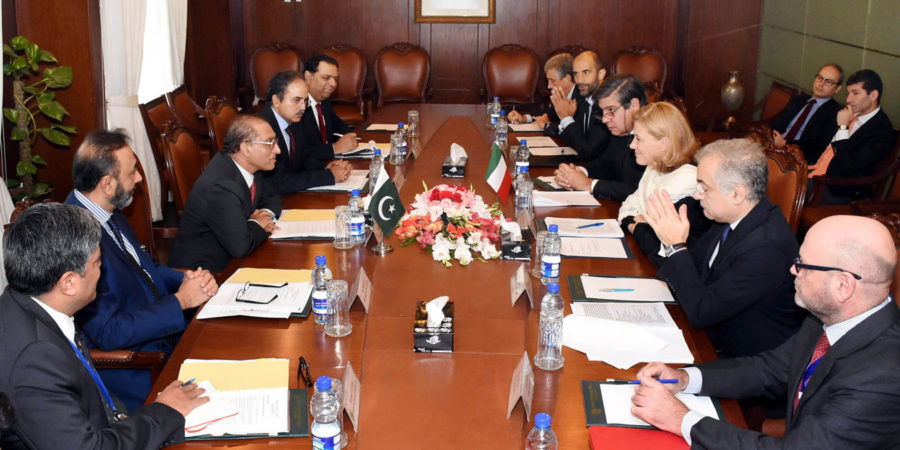 ISLAMABAD, October 18 (DNA): US Trade Representative (USTR) Ambassador Michael Froman called on the Minister for FinanceSenator Mohammad Ishaq Dar in Islamabad Tuesday.
Welcoming the dignitary to Pakistan, the Finance Minister apprised Ambassador Froman on the reforms undertaken by the Government for stabilization and growth of the economy.
He informed that Pakistan has undergone considerable tax reforms resulting in expansion of tax base which resulted in record tax revenue collection in the last three years. He said that Pakistan has also made significant progress in meeting shortfall in energy and overcoming security situation of the country.
Ambassador Froman congratulated the Finance Minister on successful completion of IMF Program. He appreciated the measure taken by the present Government to turn around the economy.  He acknowledged the improved investment climate and economic conditions in Pakistan and expressed full support to measures necessary for strengthening bilateral trade ties.
The Finance Minister stated that Investment Policy2013 of the country aimed at reducing of processes and improving ease of doing business and that all economic sectors were open to Foreign Direct Investment. He urged the US Government to continue facilitating private US investment in Pakistan.
The Finance Minister also highlighted the key legislation being undertaken by the present Government in the fields of Anti-Money Laundering, Counter Terrorism and Companies Law. Finance Minister also stated that Pakistan has recently become a signatory to OECD's Multilateral Convention on Mutual Administrative Assistance on tax matters.
The Minister appreciated the value of US as a trade partner and expressed the hope that bilateral trade would grow further as there was immense potential.He encouraged further US investment in Pakistan and said that all possible efforts are being made to ensure that a level playing field is accorded to international companies working in Pakistan and that doors remained open for further US companies' investment and expansion in Pakistan.
Ambassador Froman said that Pakistan's IT infrastructure was growing at a commendable pace and this is visibly providing opportunities for growth to SME's through e Commerce.
He thanked the Finance Minister for Pakistan's active engagement in the Trade and Services Agreement (TISA) of the World Trade Organization (WTO) and said that Pakistan was leading in this area in the region. He said that the US looked forward to further collaboration with Pakistan in the development of digital economy which can provide opportunities to far flung areas of Pakistan.
The meeting was attended by US Ambassador David Hale,Deputy USTR Vogel, Chairman Board of Investment, Miftah Ismail, Special Assistant to Prime Minister on Revenue Haroon Akhtar, Secretary Finance, Secretary Commerce, and Chairman FBR. DNA