CPEC to further deepen Pak-China friendship: Ayaz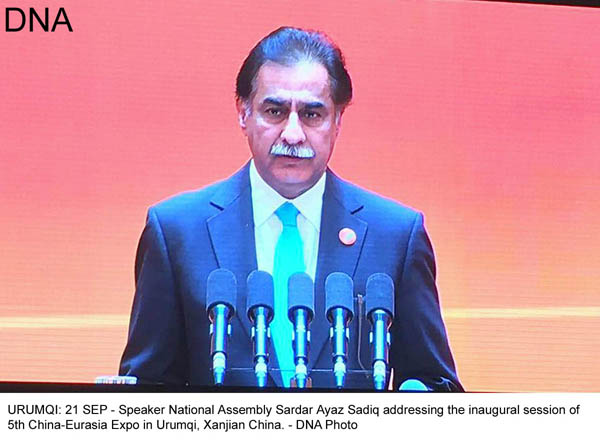 URUMQI, 21 SEPT (DNA) – Speaker National Assembly of Pakistan, Sardar Ayaz Sadiq said while meeting with Vice Chairman of National People's Congress Mr. Ailigeng Yimingbahai, Governor of Xinjiang Autonomous Region Mr. Shorat Zakir and Party Secretary of Xinjiang Province Mr. Chen Quanguo Wednesday that launching of CPEC to further deepen Pak-China friendship. 
The Speaker also met with the Vice Governor of Xinjiang Mr. Mutielifu Kassem. Mr. Ayaz Sadiq has been invited by the Chinese government to attend the fifth Eurasia Expo being held in Urumqi, says a press release received here Wednesday from China.
Welcoming the Speaker, the Chinese leaders spoke highly about Pak-China relations and said that this all weather friendship has endured the test of time. It has entered a new phase with the launch of China-Pakistan Economic Corridor (CPEC).
Both sides described CPEC as a game changer, which would lead to development and prosperity of the Region. They expressed great satisfaction over the progress on CPEC and vowed to meet the timelines for completion of various projects. It was recognized that Xinjiang province has a key role in the development of CPEC.
In this context, it was agreed to further strengthen contacts in economic and business spheres besides promoting people-to-people contacts and parliamentary exchanges. It was also agreed that interaction shall be further reinforced between various cities, which have established sister city relationships between Xinjiang and Pakistan.
The Speaker was a key note speaker at the opening ceremony of the Eurasia Expo. He also delivered a key note address at the Belt and Road Initiative: Textile and Garment Industry Development Forum, which was attended by senior officials of Chinese Government Ministries, foreign representatives and diplomats as well as a large number of Chinese textile companies.
The Speaker highlighted the opportunities existing in the textile sector in Pakistan, where joint ventures could be reached with Chinese companies. Pakistan has a strong presence in Expo with about 66 stalls and a pavilion set up by TDAP exhibiting a wide range of products. DNA