CM Sindh directs departments to ensure quality of uplift works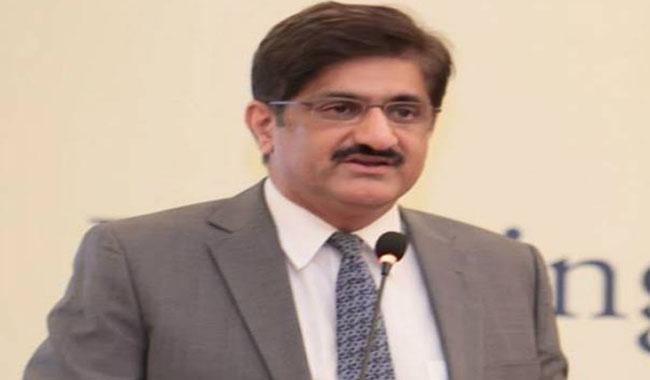 KARACHI, 22 OCT, (DNA) – Sindh Chief Minister Syed Murad Ali Shah has said that the government was spending public money on development schemes for convenience of the public. "Therefore, it becomes our responsibility to spend honestly and work honestly. This should be the criteria to execute development works."
This he said while presiding over a meeting Saturday at CM House on development schemes being carried out under provincial as well as district ADP.
He said by profession he was an engineer and could assess quality of a development work. "You cannot hoodwink me, I would personally visit yours under construction schemes hardly on a two-hour notice and would take strict action when any dishonestly is found," he said categorically and directed Secretaries, work & Services and Irrigation departments to inform their engineers to ensure quality of work and do not leave their areas without informing the concerned commissioners and without the permission of their respective secretaries.
Syed Murad Ali Shah also banned on the visit of XENs of P&D department and finance department. "Let them focus on their work and it is not their responsibility to modify or revise their schemes or get the funds of their schemes released," he said.
CM Sindh directed chief secretary to stop allowing more charges to one engineer in Irrigation and Works & Service departments. "This is a wrong policy give the impression of nepotism and it affects badly the performance of engineers.  One engineer should be made responsible only for the position where he is posted," he said and added 'this is a policy decision."
The chief minister said that despite releases of online funds by finance department the district treasuries donot release onward. On this Commissioner Hyderabad Kazi Shahid Parvez said that the treasuries release them funds when a certified copy issued by finance department is presented. The chief minister talking policy decision directed finance department to withdraw the condition of presenting certified copy.
It was pointed out that the schemes launched under district ADP of Rs25 billion was not implemented properly. The chief minister directed the commissioners to monitor each and every scheme right from conceiving to execution so that quality could be maintained.
CM Sindh also urged them to keep visiting the under construction schemes of provincial ADP. He also asked them to involve concerned deputy commissioner on the inspection work.
The meeting was informed that there was a Rs8.5 billion Maintenance & Repair (M&R) budget for the provincial roads and buildings. The chief minister observed that the budget was low but it was not being used sagaciously.
He directed the secretaries, commissioner to keep an eye on the utilization of M&R budget. The chief minister said that every commissioner must have complete data of the schemes need repair and when their repair started and what difference it made just after repair and maintenance.
The chief minister said that he has already involved his cabinet members to visit development schemes going on anywhere in the province. "I have made bound to visit schools, hospitals and such other offices so that government departments and services turn to be public-welfare departments," he said.
Commissioner Larkana Inam Dharejo pointed out that on the Indus highway the ratio of road accidents has increased as it is single carriageway. He also said that heavy cargo traffic flow has also increased on it which would reduce its life. The chief minister directed chief secretary Siddque Memon and his principal secretary Naveed Kamran Baloch to coordinate with NHA.
Upon pointing out by Commissioner Sukkur Abbas Baloch, the chief minister sad that work on Kumb-Nawabshah road would be started shortly.
Chief Minister Syed Murad Ali Shah directed all the divisional commissioners to get the SNE of completed health and education schemes from finance department. "The scheme which has been completed must be made functional at the earliest," he said.
Meanwhile, Chairman Standing Committee of Senate on Interior Rehman Malik also called on the Chief Minister at CM House.
In the meeting they discussed law and order, new political developments taking place in the city and also discussed party issues.
Senator Rehman Malik congratulated Sindh Chief Minister Syed Murad Ali Shah on organizing a mammoth public rally of Chairman Bilawal Bhutto Zardari on October 16 in the city.
An eight-member delegation of Chinese investors led by Mr Liu Guoqiang President Sichuan Investment Group also called on the CM separately and discussed investment opportunities in energy sector, particularly wind and solar energy.
The chief minister told that there was a vast wind corridor at Jhimpir which has the potential of producing 50,000MW energy. Similarly, Sindh has different corridors of solar energy where they can invest.
The Chief Minister asked Additional Chief Secretary (Dev) Mr Waseem to coordinate with the investors and hold their meetings with line departments for necessary action and facilitation. =DNA