British HC Thomas Drew extends felicitations on Eid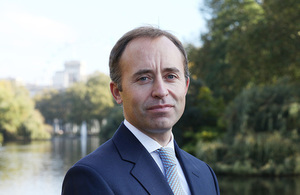 ISLAMABAD, SEPT 12 (DNA) -In his message on the occasion of Eid-ul-Azha, the British High Commissioner to Pakistan Thomas Drew CMG has said. "On behalf of the British Government and all here at the British High Commission, I send my best wishes to all Muslims in Pakistan and elsewhere as they celebrate Eid ul-Azha.
"The first Eid ul-Azha I spent in Pakistan was in 2006. I remember it as a special time for my Pakistani friends to spend time with their friends and families and to remember those less fortunate than themselves. I again therefore wish you all a very happy Eid.
Meanwhile, to mark the celebrations of the Eid ul-Azha in the UK, the British Prime Minister Theresa May said: To all Muslims in Britain and around the world I wish you a blessed Eid al-Adha. I know this festival means a great deal to communities, a time when families and friends are brought together to pray and feast, and Muslims across different continents are brought together in faith.
And as you share in that spirit of togetherness, I think proudly of the many ways people in this country connect with each other and enrich our nation's life.
I see this in politics where British Muslims are making a real difference, in enterprise and the running of multi-million pound businesses, and in the courage and dedication of those who safeguard our streets and serve in our armed forces.
I see this in the charity and compassion of our Muslim communities, whose members give so generously to those less fortunate.
And I also see this in the way people are brought together with those around the world through the strong bonds of shared history, family relationships, and concern for those suffering and in pain. I think particularly of the ongoing conflict in Syria and Iraq. Our more than £2 billion contribution, our largest ever response to a single humanitarian crisis, is helping people caught up in that appalling conflict and I am pleased that we will be continuing to provide support to those in need.
As Prime Minister, I want to see our communities go from strength to strength. Bringing people together and ensuring that everyone is able to make the most of the opportunities Britain has to offer, no matter what their background, and no matter where they are from, is central to my government's mission. As I said when I stood on the steps of Downing Street, I want to make this a country that works for everyone.
I am proud of the contribution British Muslims make to this country, and proudthat Britain is home to people from vibrant and diverse backgrounds.
So to all Muslims, in this country and around the world, I want to say Eid Mubarak. I wish you a happy and peaceful Eid."
The Foreign Secretary, Boris Johnson, said "I wish all Muslims in the UK and across the world a happy Eid as they gather with their families to celebrate, and congratulate all those participating in the Hajj pilgrimage. The UK values hugely the contribution made by British Muslims to all aspects of our society. We are proud of our strong traditions of diversity and tolerance in Britain.
We continue to work with our partners for peace and harmony across the Muslim world and in particular for an end to the conflicts in Syria and Yemen. My thoughts are with those who due to their circumstances, may be unable to celebrate Eid Al Adha this year.=DNA
================