What Bolton's exit means for the oil market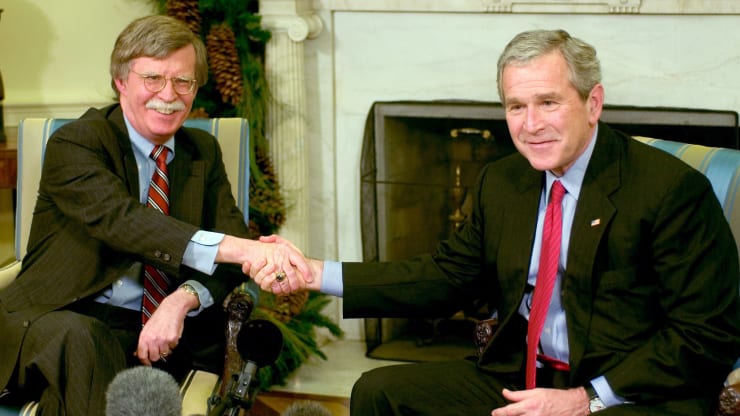 The exit of National Security Advisor John Bolton from the White House makes it less likely the situation between the U.S. and Iran will escalate to a military conflict, analysts said.
Oil prices traded lower after President Donald Trump tweeted Tuesday that he asked Bolton to resign. Seen as the most hawkish member of the president's cabinet, Bolton told NBC News that he was resigning on his own volition and that Trump had not asked him to leave. The White House said there were several reasons for Bolton's departure and said it was not due to the recent leaks about disagreement within the administration about a failed idea to hold talks with the Taliban at Camp David.
"This dials back fears of an attack on Iran," said John Kilduff, partner of Again Capital. "His desire to attack Iran goes back to George W. Bush. The oil market was always on tenter hooks with him on the scene."
Trump last year withdrew the U.S. from a nuclear deal between Iran, the U.S. and five other countries that removed sanctions from the country in return for its commitment to end its nuclear. Trump had said the agreement was one sided and too short term. both the president and Bolton had said the deal would still allow Iran to acquire a nuclear weapon.
The White House resumed sanctions on Iran, and has succeeded in forcing most of its oil exports off the market. Other members of the agreement have tried to keep Iran in the deal and France most recently offered to provide a credit line to Iran of $15 billion if it would end its uranium enrichment and recommit to the nuclear deal. Under that proposal, Iran would be allowed to resume export of 700,000 barrels a day of oil.
"Bolton pressed to attack Iran militarily at almost every turn," said Kilduff. "I think in the aftermath of that drone attack he almost prevailed but President Trump pulled back at the last minute."
West Texas Intermediate crude futures were slightly lower, and well off its highs of the day, after news of Bolton's exit. WTI was at $57.76 per barrel, while Brent futures were up 0.3% at $62.77 per barrel.
"There's actually now a heightened downside risk in oil prices because it makes a meeting between President Trump and [Iranian President Hassan] Rouhani more likely this month at the U.N. General Assembly," said Kilduff.
Secretary of State Michael Pompeo, at a press briefing later in the day, said he could imagine Trump meeting with Rouhani later in the month, in response to a question.
"The president has made it clear. He's prepared to meet with no pre-conditions," said Treasury Secretary Steven Mnuchin, during the briefing. He also said the administration is committed to maintaining the maximum pressure on Iran.
Cliff Kupchan, chairman of Eurasia Group, said the future direction of U.S. policy will be determined by Trump's views and his selection to replace Bolton. Bolton had opposed any talks with Iran, but Trump appears set on a meeting, he noted.