Bilawal condoles Bisma's death with family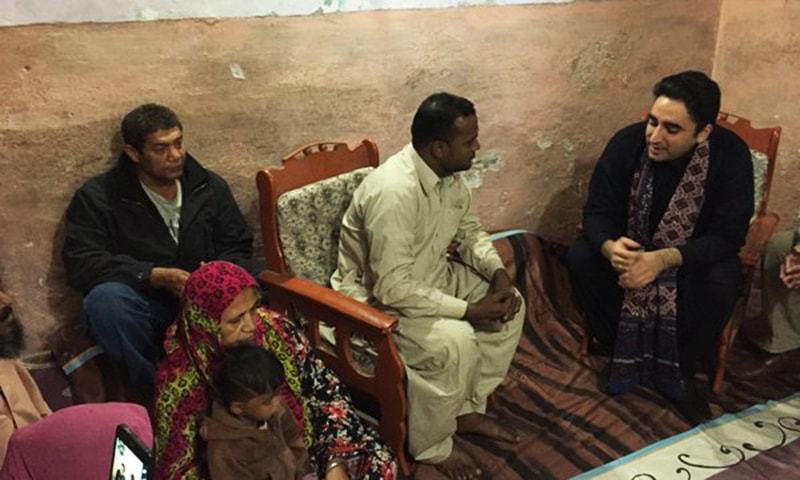 KARACHI: PPP Chairman Bilawal Bhutto Zardari on Saturday met the family of Bisma — an infant who died at the door of Civil Hospital earlier this week — and condoled the child's death with her father.
The 10-month-old girl died on Wednesday apparently because she did not receive timely medical treatment due to a security cordon which was established for Bilawal's visit to inaugurate a state of the art trauma centre.
During the meeting with Bisma's father, Faisal, at their residence in Lyari's Gabol Park, Bilawal expressed sorrow over the child's demise saying "the people of Lyari are close to my heart."
This time however, Bilawal arrived with "minimal protocol. Bilawal said Wednesday that he was "anguished" over Bisma's death and later ordered the Sindh government to conduct an 'impartial inquiry' into the incident.
Earlier, images flashed on TV screens of a young man from Lyari running in frenzy to the hospital with a child wrapped under dark sheets in his arms as the PPP chairman was inaugurating the trauma facility.
The trauma on the face of the father, later identified as Faisal, turned into grief when he was informed by doctors at the hospital that the child, Bisma, suffering from measles complications, was no longer alive and she could have been saved had she arrived a few minutes earlier.
But an angry Faisal dismissed this observation at the time, saying that the security cordon had made it impossible for him to reach the hospital in time.
"My Bisma died after policemen refused us entry to [the hospital's] emergency ward for over an hour," the sobbing father told journalists as all the cameras, meant to cover Bilawal, focused on him and his family.
"Doctors said Bisma could have been saved if she was brought to the hospital 10 minutes earlier," he said at the time.
Later however, Faisal told reporters that nobody was responsible for the death of his daughter whose "life was too short".
The PPP drew flak after senior provincial ministers came forward to defend their government and the party leadership over the mandatory protocol arrangements.
The worst came from senior provincial minister Nisar Khuhro. He told reporters that Bilawal was dear to the party and there were genuine security concerns for him and his family. But in the same breath he apologised to the family of the deceased child "if she died because of security [cordon]".