Bilaterial relations between capital markets of Kyrgyzstan and Pakistan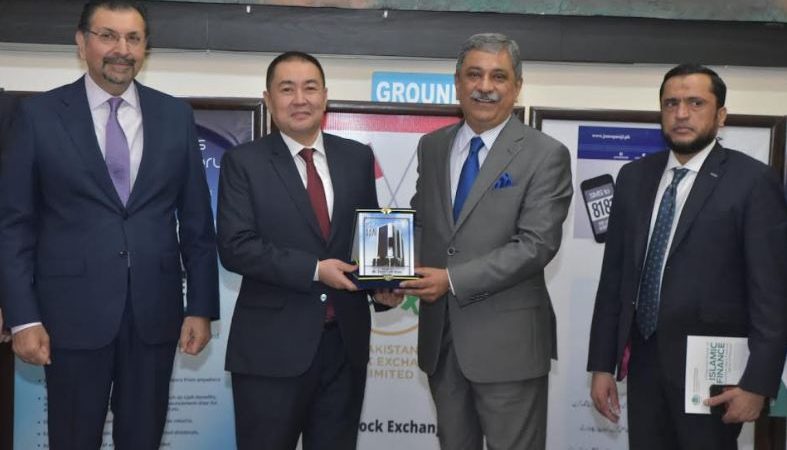 ISLAMABAD, MAY 30 /DNA/ – Ambassador of the Kyrgyz Republic to the Islamic Republic of Pakistan Ulanbek Totuiaev met with Mr. Zahid Latif Khan, Chairman ISE Towers REIT Management Company Limited and Chairman Asian Institute of Eco-Civilization, Research and Development, Mr. Farrukh H. Khan, Chief Executive Pakistan Stock Exchange, Mr. Badiuddin Akber, Chief Executive Central Depository Company of Pakistan and Mr. Muhammad Lukman, Chief Executive National Clearing Company of Pakistan in ISE Towers, Islamabad. The representatives of Kyrgyz Stock Exchange and Kyrgyz Central Depository Company also joined the meeting virtually. The meeting was organized by Mr. Zahid Latif Khan.
Ambassador Ulanbek.Totuiaev informed about the commitment of Government of Kyrgyzstan for developing the capital market of Kyrgyzstan through information sharing and introduction of automated systems. He expressed his interest in developing comprehensive cooperation and assistance with the Pakistani side for promoting the capital market in his country.He also invited the Pakistani side to visit Kyrgyzstan for the purpose.
Mr. Zahid Latif Khan suggested the conclusion of Memorandum of Understanding between the Pakistan Stock Exchange and Central Depository Company of Pakistan Limited with their respective counterparts in Kyrgyzstan.
Mr. Farrukh H. Khan and Mr. Badiuddin Akber presented a briefing on the statutory and operational areas of PSX and CDC. They also discussed the areas of mutual interest including dual listing. The participants agreed to enter into a MoU and also to organize bilateral visits.
At the end, Mr. Zahid Latif Khan place its gratitude to Ambassador UlanbekTotuiaev. The participants also thanked Mr. Zahid Latif Khan for organizing the meeting.