Bangladesh HC celebrates Pohela Boishakh festival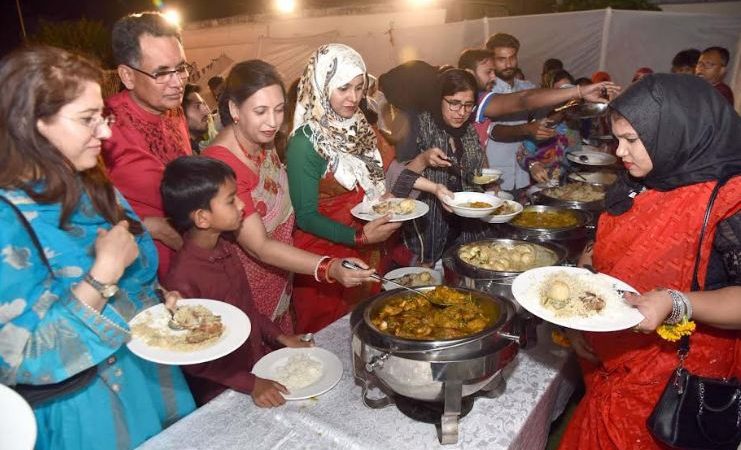 It is again unique that the birthdays of heads of four major religions namely Prophet Muhammad (Peace be upon him) of Islam, Lord Krishna of Hinduism, Lord Budha of Budhism and Jesus Christ of Christianity are celebrated in Bangladesh as public holidays'
DNA
ISLAMABAD: High Commissioner of Bangladesh to Pakistan has said they are celebrating the 50th anniversary of the conferment of 'Joliot Curie peace medal' to Father of the Nation of Bangladesh Bangabandhu Sheihk Mujibur Rahman. In addition, we celebrate Pohela Boishakh the Bangla New year, the birth anniversary of the Nobel laureate Poet Kobiguru Rabindranath Tagore and birth anniversary of national poet of Bangladesh revel poet Kazi Nazrul Islam.
He said, Bangabandhu Sheikh Mujib was dedicated to the cause of peace in his lifelong struggle. In his student life, he fearlessly rushed to rescue the helpless people facing danger, risking his own life during the horrific riots in Kolkata; while a young politicians, he participated as a delegate in the first-ever Asia-Pacific Regional Peace Conference held in Beijing; in 1956, he participated in the World Peace Conference held in Stockholm.
'He was imprisoned for more than a decade during his quest for economic and political freedom for the people of Bangladesh. And after being released from a Pakistani prison in January 1972, he declared at his first press conference in London- 'friendship with all and malice towards none' as the core principle of peace, which was later adopted as the guiding principle of the foreign policy of newly independent Bangladesh. He always supported the freedom-seeking people of Asia, Africa and Latin America and expressed unequivocal support for the oppressed', the high commissioner added.
He further said, his uncompromising stand in favor of global peace earned him the profound admiration of the masses around the world. The World Peace Council awarded Bangabandhu Sheikh Mujibur Rahman their highest prize- the Joliot-Curie Peace Medal for his commendable contributions to global peace and freedom. That inclusion of the name 'Bangabandhu Sheikh Mujib' on the same list as that of other globally renowned recipients of this award like Nelson Mandela, Fidel Castro Jawaharlal Nehru, Gamal Abdel Nasser, Pablo Neruda, Martin Luther King, Yasser Arafat, Leonid Brezhnev once again demonstrated the high esteem with which the global community honored and respected our Father of the Nation.
'A land of rivers, sufism and tolerance, Bangladesh is also special in respect of religious harmony. It is again unique that the birthdays of heads of four major religions namely Prophet Muhammad (Peace be upon him) of Islam, Lord Krishna of Hinduism, Lord Budha of Budhism and Jesus Christ of Christianity are celebrated in Bangladesh as public holidays', the high commissioner Ruhul added.
He said, celebration of the Pohela Boishakh, the first day of the Bangla calendar traces its roots back to the traditions of Old Dhaka during Mughal era. Mughal Emperor Akbar introduced this calendar for collection of tax.
Mangal shovajatra meaning procession for wellbeing, halkhata or beginning of new accounts of shops, mela, carnivals and special foods are some of the festivities of Bangla New Year celebration. The colourful Mangal Shobhajatra of Dhaka has been declared by UNESCO as an intangible cultural heritage of the world in 2016, he concluded.