Balochistan budget 2016-17: Rs28.93bn allocated for education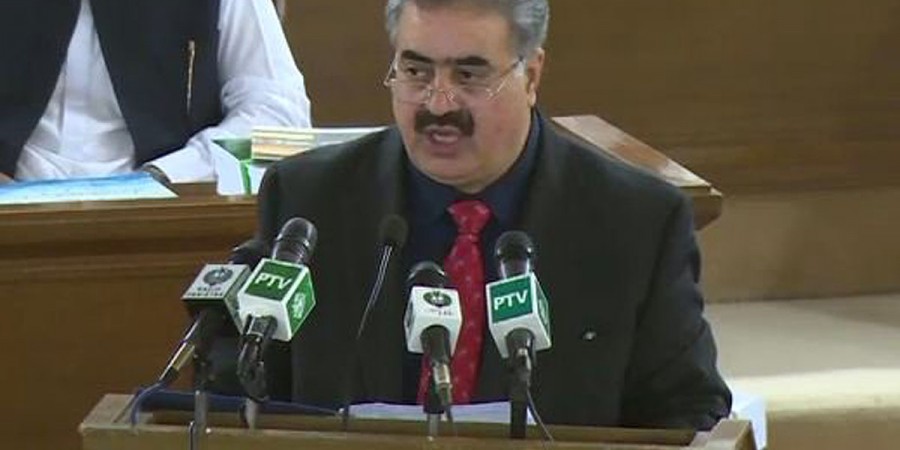 QUETTA: Chief Minister Balochistan Nawab Sanaullah Zehri on Sunday presented the provincial budget for fiscal year 2016-17 with a total outlay of Rs289bn, with Rs28.93bn allocated for education.
Allocation for education for the current fiscal year has increased by 15 per cent when compared to last year's fiscal budget.
Zehri announced during the budget speech that 14,000 students from Balochistan will be given scholarships in national and international educational institutions. 80 primary schools will also be upgraded to middle school level.
Three medical colleges would be established in Khuzdar, Loralai and Turbat and 70 middle schools were suggested to be upgraded to high schools in different areas of the province.
The provincial government has planned to distribute laptops among students of educational institutions for free and it has allocated a sum of Rs500 million for the laptop scheme.
The budget presented in the assembly had a total deficit of Rs36.48bn. The province has an expected income of Rs252.87bn for the next financial year which includes federal receipts, revenues and foreign aid.
For the current fiscal year. the provincial government has allocated Rs17.36bn for the health sector, out of which Rs1.57bn will be spent for provision of free medicine to poor and needy patients.
The chief minister said the government is making efforts to bring the province at par with other provinces in terms of development.
The provincial government has allocated Rs71bn under the public sector development program while Rs218bn has been earmarked as non-development budget.
Zehri also announced a 10 per cent increase in the salaries of government employees and said that the minimum salary has been increased to Rs14,000.
Rs30.25bn for law and order
The provincial government has suggested allocation of Rs30.25billion for law and order, out of which Rs880million will be spent for procurement of weapons, vehicles and modern equipment for Police and Levies forces.
"A sum of Rs30.25bn has been allocated in the budget for law and order," Zehri said, adding that Rs130 million were suggested for procurement of modern and standard weapons and Rs750.28 million for provision of modern equipment to Police and Levies Force, respectively.
Development
The provincial government has allocated Rs10bn for provision of clean drinking water to Quetta while Rs7.4bn have been allocated for overall betterment of the agricultural sector.
The budget presented also allocated Rs5bn for beautification and improvement of infrastructure in the provincial capital.
To provide basic civic amenities in the five divisional headquarters of the province, including uplift of Gwadar port city, the government has earmarked Rs3bn.
To introduce mass transit in the provincial capital, the government has budgeted Rs2bn for Quetta Mass Transit Train and Rs1bn for Quetta Green Bus Service projects.
Rs5bn has been set aside for development schemes of local councils, with the Quetta Municipal Corporation getting a Rs500 million grant.
Earlier, the budget was scheduled to be announced on Saturday afternoon. Official sources said that the date had been changed because of some changes in the budget proposals.