At least 16 dead as train derails in Bolan, scores injured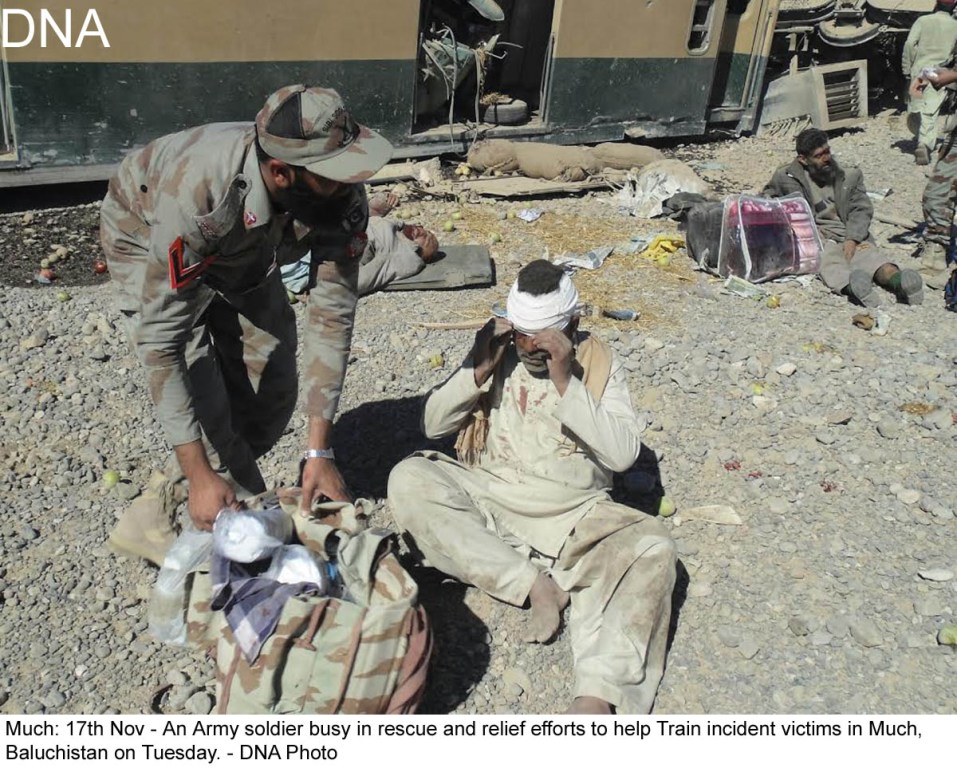 QUETTA: At least 16 people were killed and over 100 injured when four bogies of the Jaffar Express derailed in Ab-i-Gum area of the Bolan district Tuesday. The dead include the driver of the train and his assistant.
"Four carriages of the Rawalpindi-bound train which left Quetta Railway station were derailed near Ab-i-Gum area of Bolan district, some 75 kilometres from Quetta city," said Akbar Hussain Durrani, the home secretary of Balochistan. "The incident happened because the brakes of the train failed."
The victims were shifted to hospitals in Quetta where an emergency has been declared in all hospitals. A quick reaction force of FC Balochistan along with ambulances reached at site of train accident for rescue operation, read a statement issued by the Inter-Services Public Relations (ISPR).
Two MI-17 helicopters of Pakistan Army have also flown from Quetta for the rescue operation, the statement added.
In a update released by ISPR, 47 injured passengers have been shifted to Combined Medical Hospital (CMH) Quetta using Pakistan Army's Mi-17 helicopters.
Another 14 injured passengers were also shifted to CMH Quetta by army ambulances.
FC troops also shifted 63 injured passengers to Mach hospital.
Among the dead so far confirmed are 12 passengers, the train driver and his assistant, and two members of the railway police, Durrani said.
He praised the residents of a nearby village who helped with the rescue efforts.
Earlier this month, three passengers of Jaffar Express were killed and 11 others were injured in a bomb blast on a railway track near Dasht area in Mastung district.
Those killed and injured were railway employees travelling in the first bogey of Jaffar Express going to Rawalpindi from Quetta. The banned United Baloch Army (UBA) had claimed responsibility for the blast.