Army chief calls for Muslim unity during Iran visit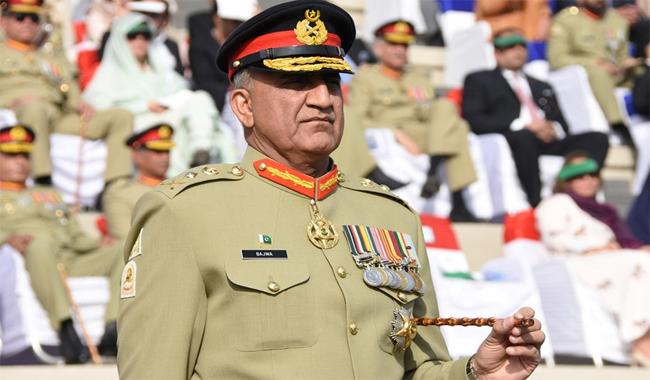 TEHRAN, NOV 07 (DNA) – Chief of Army Staff General Qamar Javed Bajwa has said the unity among Muslim countries is a necessity to restore peace and security in the present conditions.
The army chief made this statement during a meeting with Iranian Minister of Defense Brigadier General Amir Hatami on Tuesday.
COAS Bajwa said, in his meetings with the Iranian president, chief of staff, and foreign minister, emphasised that the border of the two countries should be one of friendship, security and stability.
Referring to religious, historical, and cultural commonalities of two neighbours, the general said Pakistan views Iran as a great country with ancient civilisation and the Pakistani people attach importance to Iranians.
Saying that fighting terrorism and restoring security in the border with Iran is a priority for Pakistan, he expressed hope that bilateral economic and commercial ties be expanded through establishing peace and security in the Iran-Pakistan borders.
On Monday, President Hassan Rouhani said that Tehran welcomes expansion of defensive and military cooperation with Islamabad hoping that such cooperation will lead to bolstering of political, economic and cultural cooperation between the two countries.
"The Islamic Republic of Iran is determined to broaden brotherly and sincere relations with its neighbors such as Pakistan, and there is no doubt that such relations will win supports of both nations," Rouhani said.
"Expansion of cooperation between the two sides' armed forces could be in various sectors such as training, joint military exercises, military industries as well as exchange of experiences.
"Terrorism, sectarian and ethnic differences are now regarded as two main problems in the world of Islam and role of some global powers in fanning the flames of such disputes is remarkable. Big powers are against unity and brotherhood between Muslims as they know that such relations will bring Muslims much closer and there is no doubt that these countries in the absence of global powers will be able to resolve their problems," he added.
The Iranian leader was sure that close cooperation between Iran and Pakistan can help prepare the grounds for more unity among Islamic states and it is quite evident that existing differences between Islamic countries can be resolved through dialogue.
Gen Bajwa described the bilateral relations "very brotherly" and "deeply rooted", and underlined that Islamabad calls for expansion of military and defensive cooperation with Tehran in line with both sides historical and economic ties.
People in Pakistan always respect Iranian people for their bravery and resistance against arrogant powers and 'we are determined to broaden all-out relations' with the Islamic Republic of Iran, he said.