Ambassador highlights economic, political significance of relations between Pakistan and US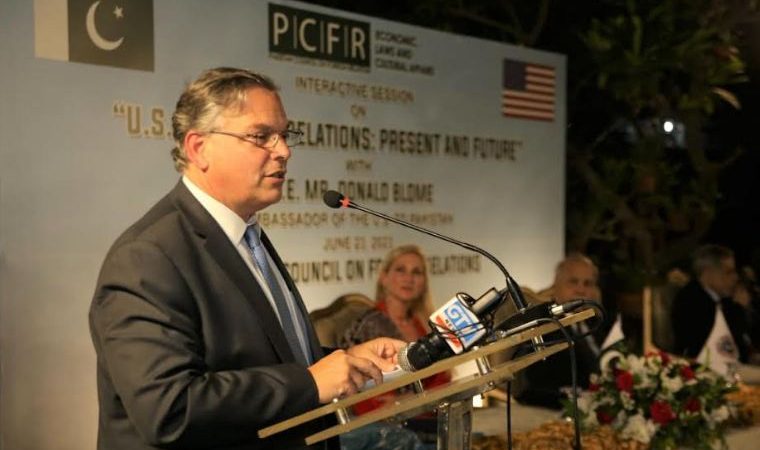 KARACHI, JUN 24 /DNA/ – Pakistan Council on Foreign Relations (PCFR) – a Karachi-based think tank – organized an interactive session on "U.S.-Pakistan Relations: Present & Future" in Karachi. Donald Blome Ambassador of the U.S. to Pakistan addressed the session while Nicole D Theriot Consul General of the U.S. to Karachi was also present on the occasion.
The session was attended by the members of consular corps, former ambassadors, business community, and PCFR members. Mr. Ahsan Mukhtar Zubairi Secretary General of PCFR presented the welcome address and highlighted the activities of the council that contributed in bridging the gap between the diplomatic corps and the Pakistani community.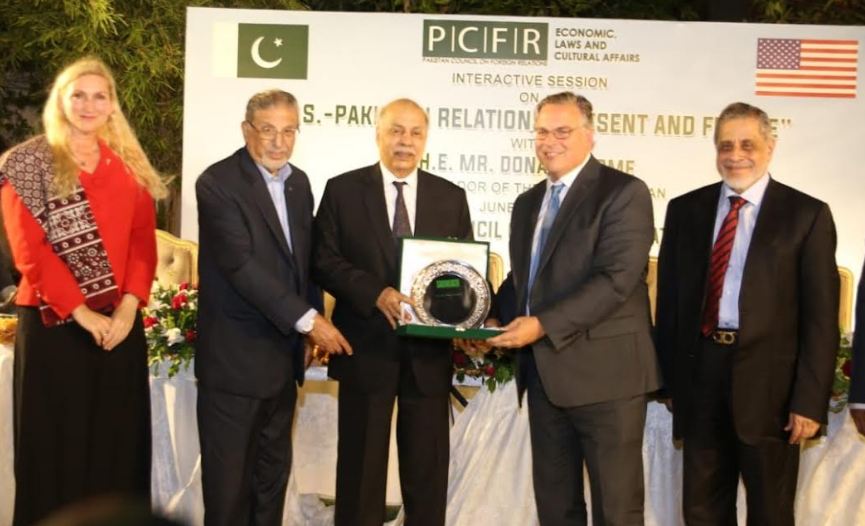 Mr. Zubairi said that since 1947, the relations between Pakistan and U.S. has seen various phases of cordiality and differences defined by the logic of transactional necessity. Mr. Zubairi further said that owing to recent alliance and counter-alliances across the globe, the relations between Pakistan and the U.S. has been a widely debated topic in our country.
Ambassador Blome highlighted the economic and political significance of relations between Pakistan and the U.S. Ambassador Blome emphasized that the U.S. wants to see Pakistan as a stable, prosperous, and active partner of the global community.
Ambassador Blome further said that economic issue is the major problem for Pakistan and the U.S. was keen to see the resolution of this problem.
While commenting on the impact of climate change on Pakistan, Ambassador maintained that the U.S. has extended the best possible assistance to Pakistan to tackle in tackling the devastation caused by the floods of last year. He said it is their desire to see a Pakistan that is resilient to the effects of climate change. In his concluding remarks, Ambassador Syed Hasan Habib thanked the guests and expressed hope that U.SPakistan relations will be mutually beneficial in the future.