Ambassador Hassan meets NU chairman Yahya Staquf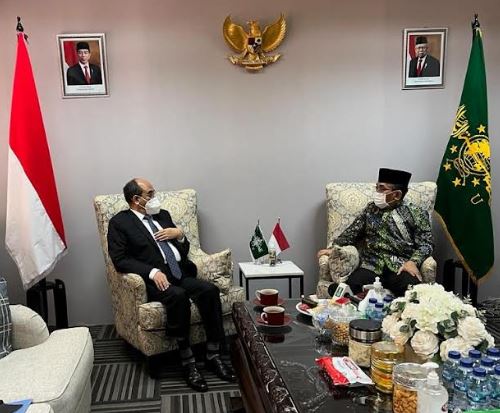 DNA
JAKARTA: Ambassador Muhammad Hassan met with Mr. K.H. Yahya Cholil Staquf, Chairman of the Executive Board of Nahdlatul Ulama (NU), the largest and most influential religious organization of Indonesia on 8 March 2022. Mr. Yahya is a renowned intellectual figure in Indonesia and a confidante of President Joko 'Jokowi' Widodo. He has previously served as Deputy Speaker of the Parliament and Spokesperson to former President Abdurrahman Wahid.
During the meeting, the Ambassador underscored the need to establish close connections and collaboration of the religious communities and organizations of the two countries. He highlighted the problems faced by the Islamic world, including the issue of religious extremism, islamophobia in the West, Afghanistan, and Jammu and Kashmir. Both exchanged ideas of bilateral cooperation on these issues. The ambassador also briefed him on the situation in IIOJK and the rise of Islamophobia in India. The Ambassador stressed that Indonesia should use its good relations and impress upon India to stop its anti-Muslim policies, especially in IIOJK and come to negotiation table with Pakistan to find peaceful solution of all contentious issues.
Mr. Yahya also expressed his intention to work with Pakistan Ulema Council to promote religious harmony and fight Islamophobia. Highlighting the importance of the forthcoming 48th Session of the OIC CFM being held in Islamabad this month, the Ambassador stated that the issue was expected to be discussed by the Foreign Ministers of the OIC countries during the event. Ambassador also expressed hope that Indonesia will actively participate in the event.