Pakistan participates in arts exhibition at Orsha Gallery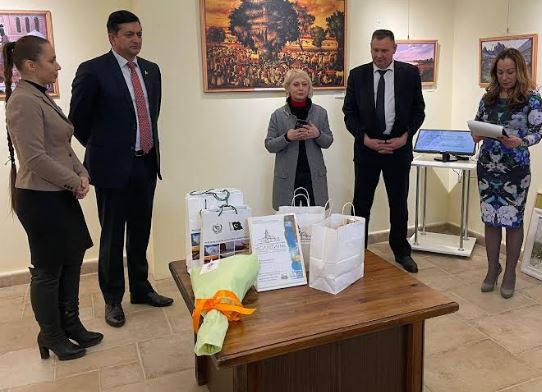 Orsha, MAR 9 /DNA/ – The opening ceremony of the International Exhibition "Kollegium NEW", was held at Orsha Gallery on 4 March 2022. The Exhibition was held online/offline format, in which over 150 Artists from several countries including Russia and Pakistan participated showcasing their art works of modern paintings, graphics, art objects of professional artists. While two artists from Pakistan namely Erum Ashfaque and Ayesha Kamal participated online, the Embassy provided 18 art works of Jimmy Engineer for the exhibition.
Ambassador Sajjad Haider Khan participated in the Opening Ceremony. Chairman of the Executive Committee of Orsha region Mr. Igor Isachenko, Director of the Cultural Institution" Museum Complex of History and Culture of Orsha Region" Ms. Julia Komarova and Director of the Art Gallery named after V.Gromiko-Ms. Raisa Kondratyuk hosted the ceremony.
During his speech the Ambassador briefed the guests about the diversity of Pakistani culture, its ancient heritage and pointed the importance of expanding cultural relations between two countries.