Afghan envoy praises Karzai, ignores Ghani in media interaction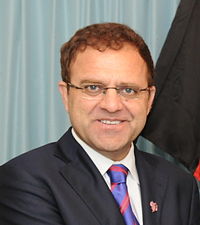 ISLAMABAD, Feb 11 (DNA): Afghanistan's new ambassador to Pakistan Dr Omar Zakhilwal surprised a group of journalists when he highly praised former President Hamid Karzai in his media interaction but ignored President Ashraf Ghani. Afghan Press Counselor, Mr Habibzuai, had invited journalists at the ambassador's residece for informal talk at breakfast.
Dr Zakhilwal talked about Pakistan-Afghanistan relations and the possible peace talks with the Taliban and the importance of the quadrilateral process.
He highly praised Hamid Karzai but did not spare much time to talk about President Ashraf Ghani's efforts to improve relations with Pakistan and his role in the peace process during his media talk and question-answer session that was a big surprise for the journalists.
Zakhilwal, an economist, had served as Finance Minister during Hamid Karzai.
President Ghani appointed Zakhilwal as the country's ambassador, replacing Janan Mosazai, nearly two months ago.
"On my request, President Ghani also gave me a title of the special presidential envoy for Pakistan," Zakhilwal said.
He said he had consulted Hamid Karzai before coming to Pakistan.