8th death anniversary of Quaid being observed with due solemnity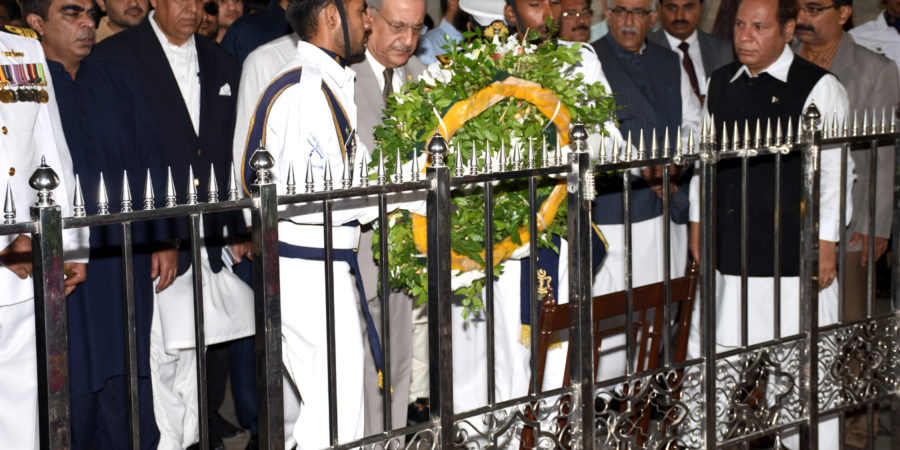 ISLAMABAD, Sep 11 (DNA): The 68th death anniversary of Father of the Nation, Quaid-i-Azam Muhammad Ali Jinnah, is being observed today (September 11) with due solemnity.
Sindh Chief Minister Syed Murad Ali Shah and Governor Dr. Ishrat Ul Ebad Khan along with members of the provincial cabinet visited mausoleum of Quaid-e-Azam on Sunday and paid their tribute.
Representatives of the three armed services laid wreaths at the Mazar on behalf of their respective chiefs. They also offered Fateha.
People from various walks of life continued visiting the mausoleum of the great Quaid in Karachi all day long to pay tributes and offer Fateha. Various organizations arranged seminars and ceremonies to pay homage to Quaid-i-Azam.
Quaid-e-Azam was born on December 25, 1876 in Karachi and passed away on September 11, 1948.
He received early education in Karachi and then went to London for higher education.
He got his law degree in 1896, returned home and began his legal career. Later he joined Muslim League and struggled for a separate homeland for Muslims of the Sub-continent.
Quaid-e-Azam was the first Governor General of Pakistan, which gained independence on August 14, 1947 due to his relentless efforts.=DNA
====================
Raza Rabban calls for strengthening of national institutions
ISLAMABAD, September 11 (DNA): Acting President Mian Raza Rabbani has said democracy will become more stable with the strengthening of national institutions and strictly following the constitution.
He was talking to media after laying floral wreath at mausoleum of Quaid Azam Muhammad Ali Jinnah and offering Fateha, in Karachi on Sunday.
Raza Rabbani condemned the atrocities by the Indian forces against innocent Kashmiris in Occupied Kashmir.  He said many youths have been injured seriously with the use of pallet guns by the Indian forces against the protestors.
The Acting President urged the international community to take steps for stopping the worsening human rights situation in IOK. DNA
=============================