1713 dengue cases reported in Sindh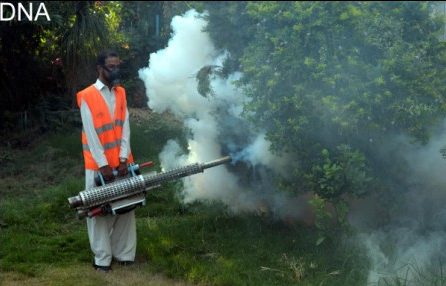 KARACHI, 24 OCT (DNA) – Sindh Chief Minister Syed Murad Ali Shah spending his whole day on the improvement of health services in the province directed health department to take necessary measures to provide dengue kits to Tharparkar and Karachi so that it could be diagnosed and cured in time.
This he said while presiding over a meeting on health services at the CM House on Monday. The meeting was attended by Minister Health Dr Sikandar Mendhro, Secretary Health Usman Chachar and other senior officers of health department.
Briefing the chief minister Secretary Health Usman Chachar said that 1713 cases of dengue have been reported in province, of them 1510 cases in Karachi with three deaths, 68 in Hyderabad and 84 in Tharparkar.
Minister Health Dr Sikandar Mendhro said that in Thar presently 88 cases have been reported, of them 84 were treated in Hyderabad and sent back home. Only four patients in stable condition are in LMC Hyderabad.
Giving reasons of spread of dengue in Tharparkar, Dr Sinkandar Mendhro said that people in Thar store water in tanks and earthen pots. The dengue mosquito lays eggs in that clean and stored water which they [villagers] use for drinking and other purposes. He also added that dengue has been found in Karachi. Mostly the people of Thar working in Karachi visit their villages frequently. They also carry dengue infection back to their villages.
The health minister said that Dengue Control Programme Manager Dr Masood Solanagi had taken the sample of water stored in different areas of Karachi, including of zoo and found millions of lorvea (dengue seedlings). They killed them by pouring chemical into their tanks and now it is safe t some extent.
Secretary health told the chief minister that the Dengue Control Programme administration has purchased 17000 kits and have started distributing them in the affected areas. 'Dengue is not a fatal disease. A normal person has 300,000 platelets. When a person suffers from dengue he feels abdominal pain, vomiting, breathing difficulty and his blood platelets start decreasing. Its treatment is simply the treatment of normal fever but has to maintain the platelets of the patient. When the platelets of the patient drop down to 20,000 the patient starts bleeding and it becomes fatal. This is why the government is trying to provide test kits to hospitals.
The chief minister directed health department to take necessary measure to provide timely treatment to the dengue patients and also issued directives to commissioner and local bodies for extensive fumigation in Karachi, Hyderabad and Thar.
Sindh Chief Minister taking serious notice of spreading aids in Larkana directed health department to wake up the Sindh Aids Control Programme team. "What they are doing when the aids cases are being reported on the rise in Larkana division," he said.
Secretary Health Dr Usman Chachar told the chief minister that there are around 1500 cases of aids in Larkana. The recent spread of the cases was being attributed to dialysis machines by some people is not correct.
Giving inquiry reported conducted on the instructions of the chief minister, the secretary said that Aids control programme and Blood Transmission Authority had jointly conducted the inquiry.
He said that the findings of the report say that aids have spread in Larkana due to illegal blood banks and laboratories. The team raided a number of blood banks and laboratories sealed some of the them.
On this the chief minister directed the health department to start crack down against illegal blood banks and labs all over SIndh. "I would not allow any body playing with the lives of poor people, this is unacceptable and taken strict action against them and report me," he said.
The minister health also said that the other cause of spread of aids in Larkana is use of syringes by heroin addicts. He also ordered Excise and narcotics department to take strict action in Larkana and other areas where narcotics is sold. "The AIDS control programme must take action and start treatment of the addicts by picking them from different areas," he said. DNA