1,000 Palestinians still under the rubble: officials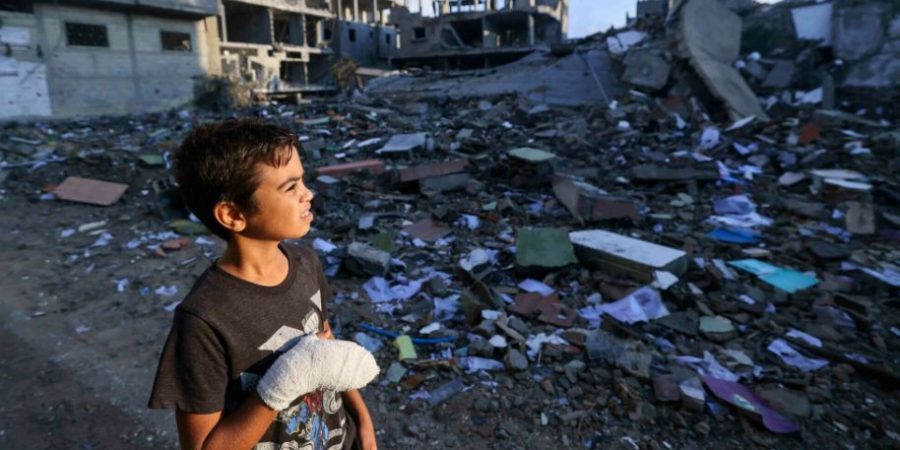 Gaza, OCT 16: More than 1,000 Palestinians are trapped under the rubble in Gaza, Eyad Al-Bozom, spokesman for the Hamas Interior Ministry said on Monday in a statement, warning of a humanitarian and environmental crisis, as the number of dead in the Gaza Strip rose to around 2,750.
The Gaza health ministry said the death toll from Israeli strikes on the territory had risen to around 2,750 while some 9,700 people had also been injured.
Israel has imposed a "total siege" to stop food and fuel from reaching the enclave of 2.3 million people, many poor and dependent on aid in response to a surprise Hamas offensive on October 7 that left 1,300 Israelis dead, according to officials. After it suffered the deadliest attack in its history, Israel unleashed a relentless bombing campaign of the Gaza Strip.
Separately, Israeli Prime Minister Benjamin Netanyahu's office denied reports of a ceasefire in Gaza that would enable aid to enter and foreigners to flee to Egypt, 10 days into the conflict with Hamas.
"There is currently no ceasefire and humanitarian aid in Gaza in return for removing foreigners," a statement from Netanyahu's office said.
However, the army pledged to refrain from striking routes within Gaza designated for evacuating people from the enclave's north to the south during a limited time window, from 8am to noon (5am GMT to 9am GMT).
Media reports had said Israel, Egypt and the United States had agreed the Rafah crossing between Gaza and Egypt would be opened for several hours on Monday in a one-off move to allow foreign nationals to flee and aid goods to enter.
Israel's 'deliberate, disproportionate' targeting of Gaza civilians in violation of international law: PM Kakar
Interim Prime Minister Anwaarul Haq Kakar on Monday said that Israel's "deliberate, indiscriminate and disproportionate" targeting of civilians in Gaza was against "all norms of civility and in manifest violation of international law".
The statement by the premier comes a day after Foreign Minister Jalil Abbas Jilani slammed Israel for "committing a genocide" against Palestinians and said the grave situation stemmed from seven decades of illegal occupation of the Palestinian territories.
In a statement on social media platform X (formerly Twitter), Kakar said, "Pakistan is deeply concerned on the ongoing violence and loss of life in Gaza. We stand in solidarity with the oppressed people of Palestine and call for an immediate ceasefire and lifting of the blockade in Gaza."
He said that the violence needed to be viewed in "the context of years of forced and illegal occupation of Palestinian territory and repressive policies against its people".
"The UN and international community must immediately act to open safe and unrestricted humanitarian corridors for transportation of urgently needed relief supplies to the besieged Gaza," he said.
The prime minister added that Pakistan was closely coordinating with the Organisation of Islamic Cooperation (OIC) and its member states on the "fast deteriorating situation" in Gaza.
He said that the foreign minister would also be attending an emergency meeting of the OIC's executive committee on October 18 and "call for urgent action to alleviate the suffering of people of Gaza".
One million Gazans flee as Israel readies for ground attack
More than one million people have fled their homes in Gaza in scenes of chaos and despair as Israel bombarded the Hamas-ruled territory and continued massing troops on Monday in preparation for a full-blown ground invasion.
Following an Israeli order to move to the south of the Gaza Strip, people have fled their homes in the north of the enclave to seek shelter wherever they can, including on the streets and in UN-run schools.
Palestinians carrying whatever belongings they can, in bags and suitcases, or packed onto three-wheeled motorbikes, battered cars, vans and even donkey carts have become a common sight.
"No electricity, no water, no internet. I feel like I'm losing my humanity," said Mona Abdel Hamid, 55, who fled Gaza City to Rafah in the south of the enclave, and is having to stay with strangers.
US President Joe Biden said in an interview with the CBS news programme '60 Minutes' that while invading and "taking out the extremists" was needed, any move by Israel to occupy Gaza would be a "big mistake".
Biden said he believed Hamas must be eliminated but there should be a path to a Palestinian state.
'Verge of abyss'
A bereaved and infuriated Israel has massed forces outside the long-blockaded enclave of 2.4m in preparation for what the army has said would be a land, air and sea attack involving a "significant ground operation".
"We are at the beginning of intense or enhanced military operations in Gaza City," spokesman for the Israeli Defense Forces (IDF) Jonathan Conricus said. "It would be unsafe for civilians to stay there," he added.
Iran and Lebanon's Hezbollah have warned that an invasion of Gaza would be met with a response.
"No one can guarantee the control of the situation and the non-expansion of the conflicts" if Israel sends its soldiers into Gaza, said Iran's Foreign Minister Hossein Amir-Abdollahian.
Fire along the Israeli-Lebanese border has intensified in the last week, prompting Israel to shutter the area to civilians.
On Sunday, a rocket hit the UN peacekeeping base in southern Lebanon, while Hezbollah attacks killed one person in Israel, the Israeli military said. At least 11 people have been killed in Lebanon and at least two in Israel in the past week.
Among those killed in Lebanon was a Reuters journalist, Issam Abdallah.
US State Secretary Antony Blinken was due to hold talks in Israel on Monday after a crisis tour of Middle Eastern countries in a frantic attempt to avert a wider crisis in the volatile region.
But as Israel seeks to avenge the brutal attack that also saw Hamas fighters take scores of hostages, the Arab League and African Union have warned an invasion could lead to "a genocide".
UN chief Antonio Guterres has warned that the entire region was "on the verge of the abyss".
Israeli troops prepare weapons and armed vehicles near the southern city of Ashkelon on October 15. — AFP
Escalation risk
Israel's Defence Minister Yoav Gallant said his country had "no interest in a war in the north, we don't want to escalate the situation".
The United States, which has given unequivocal backing to Israel, has sent two aircraft carriers to the eastern Mediterranean as a deterrent.
The White House has voiced fears at the prospect of Iran becoming "directly engaged", after Tehran praised the Hamas attack but insisted it was not involved.
Biden, asked in the '60 Minutes' interview whether US troops might join the war, said "I don't think that's necessary".
"Israel has one of the finest fighting forces … I guarantee we're gonna provide them everything they need," he said.
The United States has also appealed to China to use its influence in the region to ease tensions.
On Sunday, Foreign Minister Wang Yi said Israel's response had "gone beyond the scope of self-defence", and demanded that it "cease its collective punishment of the people of Gaza".
People gather in a neighbourhood in Rafah in the southern Gaza Strip, after it was hit by an Israeli strike on October 15. — AFP
Aid agencies' alarm
Massing thousands of troops and heavy weaponry in the desert south of the country, the Israeli military has said it is awaiting the "political" green light to go into northern Gaza.
The army has told 1.1 million Palestinians in the north of the Gaza Strip to head to the south of the enclave.
But Israeli air strikes were continuing in the south of Gaza, including in Khan Yunis and Rafah, where one resident said a doctor's house was targeted. "All the family was wiped out," said Khamis Abu Hilal.
The UN said on Monday that 47 entire families, amounting to around 500 people, have been killed in Israel's bombing campaign.
Foreign governments and aid agencies, including the UN and Red Cross, have repeatedly criticised Israel's evacuation order.
The UN agency supporting Palestinian refugees said on Sunday that some one million Palestinians had already been displaced in the first week of the conflict — but the number was likely to be higher.
Lynn Hastings, the UN humanitarian coordinator for the Palestinian territories, decried that Israel was connecting humanitarian aid into Gaza with the release of scores of hostages kidnapped during the Hamas attack.
"Neither should be conditional," she insisted in a video posted by the UN. "They have said they want to destroy Hamas, but their current trajectory is going to destroy Gaza."
Evacuations
In Gaza, hospitals are becoming overwhelmed with increasing numbers of dead and injured, with officials saying Sunday that some 9,600 people have been wounded.
Israeli energy minister Israel Katz on Sunday said water supplies to southern Gaza had been switched back on.
But power outages threaten to cripple life-support systems, from sea water desalination plants to food refrigeration and hospital incubators.
Even everyday functions — from going to the toilet, showering and washing clothes — are almost impossible, locals said.
Gazans are effectively trapped, with Israeli-controlled crossings closed and Egypt also having shut the Rafah border in the south.
Blinken said he was confident the crossing "will be open" for aid into the strip, amid reports that Egypt was blocking the passage of Gazans with foreign passports until relief supplies are allowed in.
He categorically rejected the idea floated of expelling Palestinians from the Gaza Strip.