Zhejiang's green program gives new image to rural areas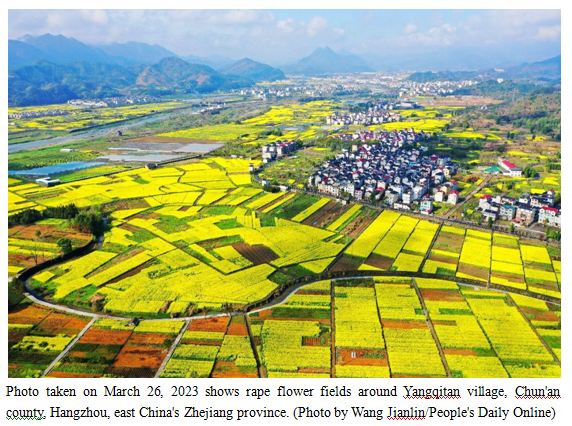 By Dou Hanyang, Han Xin, Qiu Haifeng, People's Daily
In the beautiful field in Pushan village, east China's Zhejiang province, tourists joined a bamboo dance led by villagers, immersed in a joyful atmosphere filled with laughter.
No one would believe that the place was once covered by illegal buildings and stinky trash dumps.
"It was smelly in hot weather, with flies and mosquitoes flying all over the space," villager Lei Hongchen recalled.
Deciding to change the situation, the village removed illegal buildings, refurbished the walls of residential buildings and upgraded public spaces. Today, with the idyllic landscape and unique local features, the village has become a renowned photogenic spot for social media.
The story of Pushan village is a miniature of how Zhejiang province has promoted its green program in rural areas, which aims at practicing the concept that "lucid waters and lush mountains are invaluable assets" in rural areas.
In June 2003, under the initiative of Xi Jinping, who once served as provincial Party chief, Zhejiang launched the Green Rural Revival Program, which selects 10,000 administrative villages in the province for comprehensive improvement, and plans to turn 1,000 of them into demonstration villages of moderate prosperity in all respects.
Over the past two decades, a number of projects were launched under the program, including sewage treatment, closures of coal mines to tackle air and land pollution, and trash classification, which comprehensively lifted the image of the countryside in Zhejiang province.
Thanks to the program, the living environment was bettered in 27,000 administrative villages across the province. A total of 2,170 featured villages and over 3 million beautiful rural courtyards were built. The forest coverage in Zhejiang now exceeds 61 percent, indicating substantial improvement in rural ecology and environment.
In 2018, the program won the Champions of the Earth award, the highest environmental honor given by the United Nations.
Lucid waters and lush mountains are invaluable assets. Over the recent years, Zhejiang province has vigorously developed eco-agriculture, rural e-commerce and rural tourism sectors, drawing a picture of a vibrant eco-driven economy.
In Miaoshan village of Huzhou, Zhejiang province, B&B hotels in the shape of straw hats were built, an old bucket factory was turned into an art gallery, and an ancient livestock farm was changed into a water park. Thanks to these transformations, the village saw a collective operating income of 2.28 million yuan ($322,974) last year.
In today's Zhejiang, parks are commonly seen in villages, where residence buildings have been turned into B&B hotels. Villagers became shareholders who benefited from the local resources.
In 2022, the per capita disposable income of rural residents in the province stood at 37,565 yuan, up 6.6 percent from a year ago. The urban-rural income gap was narrowed to a ratio within 1.9 ahead of schedule. This has laid a solid foundation for Zhejiang to build itself into a demonstration zone for achieving common prosperity with its high-quality development.
The sound ecology is a big attraction to talents. Twelve kilometers away from Miaoshan village, there is a "valley of science" in Xisai Mountain, which is home to 23 small-sized scientific research institutions.
According to an official with Huzhou's science and technology bureau, the valley has attracted over 500 sci-tech talents and 24 research programs. A batch of universities will be built there soon, including Huzhou College, the official said.
Exploring featured paths while sticking to historical and cultural traditions helps realize better development.
In Longxian village of Lishui in southwest Zhejiang, villager Wu Yongqiang runs a B&B hotel. Traditional fish-shaped lanterns are hanging inside the hotel and outside of it there are layers of terraces, where visitors can join rice transplanting, harvesting and fish-catching activities.
The traditional Rice-Fish Culture system, which fertilizes fields with fish manure and feeds fish with rice in turn, has a history of over 1,000 years in Longxian village. It was listed in the world's first group of the Globally Important Agricultural Heritage Systems designated by the Food and Agriculture Organization of the United Nations in 2005.
Inheriting its unique farming traditions and leveraging local features, Longxian village has built a new form of rural tourism that combines sightseeing and experience activities based on the inheritance and conservation of the traditional Rice-Fish Culture system.
Up to now, Zhejiang province has 14 nationally important agricultural heritage sites and four Globally Important Agricultural Heritage Systems. It has put 432 key villages and 2,105 general villages under protection and proper utilization in 10 batches of projects.
Aiming at environmental treatment, Zhejiang's Green Rural Revival Program comes with targeted measures and well-coordinated plans in light of local conditions. It places importance on the conservation of traditional culture and characteristics of villages, and promotes transformation in development models and lifestyles.
The program has drawn a picture of China's new countryside, which proves that Chinese modernization, with a feature of green development, follows a win-win approach to both economic progress and environmental protection.
In the future, the country will continue making steady efforts in building a beautiful and harmonious countryside that is desirable to live and work in, work for a beautiful China, and make more contributions to the world's ecological progress.