ICCI Entrepreneurship Program is a golden opportunity for students to learn business: President ICCI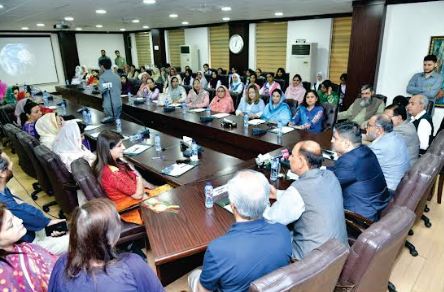 ISLAMABAD, JUN 12 /DNA/ – President Islamabad Chamber of Commerce Ahsan Zafar Bakhtawari has said that women constitute 52 percent of Pakistan's population. Sustainable development is not possible without their full involvement, in the developed countries of the world, women are playing their role in every field of life alongside men, and this is the secret of the development of these countries. To deal with unemployment. There is a need to focus on entrepreneurship, it is not possible to accommodate millions of young people who have graduated from universities in the public and private sector, instead of looking for employment, and the youth should become job sharers by promoting entrepreneurship. He expressed these views while addressing the launch ceremony of Islamabad Chamber of Commerce and Industry's entrepreneurship program for all students. Chamber members, Director Federal Directorate of Education Prof. Aftab Tariq, principals and a large number of students of educational institutions of Islamabad participated in the ceremony.
President Islamabad Chamber said that all government schools and colleges of Islamabad are 50-60 years old, their reconstruction has become inevitable, out-of-the-box thinking and concern is needed in this regard. He said that Attention should be given to IT education in all government schools and colleges of Islamabad, Islamabad Chamber is ready to play its role to make Islamabad an IT hub. He said that Islamabad is ready to teach students about entrepreneurship as well as business under the entrepreneurship program of Islamabad Chamber.
He said that he will personally provide capital for the IT lab in Islamabad College for Girls, similarly, business personalities of Islamabad should be included to provide facilities in other colleges. He said that every school and college should allocate a room for the education of out-of-school children and arrange education for them. President Islamabad Chamber said that this program of ICCI is a great opportunity for students of educational institutions of Islamabad to learn business during their studies. He said that IT is the sector that has the most entrepreneurship opportunities for the youth. In the current budget, the government has taken steps to promote entrepreneurship. For the promotion of entrepreneurship, the government should provide loans to the youth on easy installments. He said that this initiative of Islamabad Chamber is the first step and we will take it further.
Speaking on this occasion, Vice President Engineer Azhar ul Islam said that youth need to work with hard work and honesty, businessmen are the real heroes of the society due to which millions of people get employment, youth should idealize such people. Who have made their name through hard work and honesty. Speaking on the occasion, Director FDE Prof. Aftab Tariq said that I am grateful to Islamabad Chamber who have taken this excellent step, in fact there is a need to attract our youth towards entrepreneurship.
He said that I hope students will take advantage of this opportunity. In the opening ceremony of the program, former president Zafar Bakhtawari, members of the executive committee, Maqsood Tabish, Parveen khan khalid chaudhry, principles of various colleges, Saba Faisal, Dr. Firdous Zahra, Shazia Rizvi, Fatima Mubeen, Sadia Aziz, Farah Hamid, Shazia Wazir, Sadia Abrar, Humira Agha, Zubeera Mughal, Rosina Fahim, Madam Asia and others participated.