Zardari, Bilawal to contest polls and join current Parliament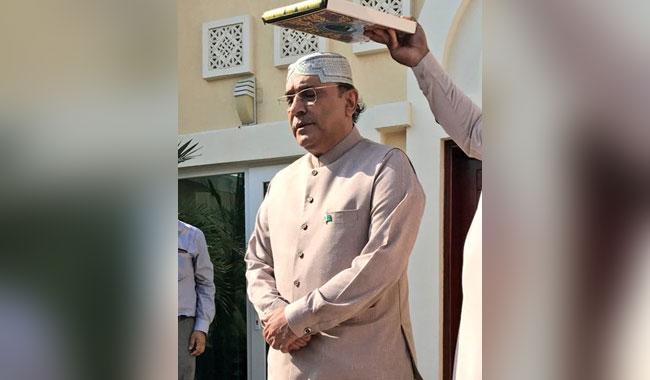 GHARI KHUDA BAKSH, DEC 27 (DNA) -Former president Asif Ali Zardari revealed his important announcement on Tuesday stating that he along with Bilawal Bhutto Zardari would contest elections and enter the current Parliament.
Addressing the rally in Garhi Khuda Baksh, the former president announced he would contest elections from Nawabshah and party chairman Bilawal Bhutto Zardari would contest from Larkana.  "I will contest the election on my sister's seat and Bilawal on Soomro sahib's seat," he said, while speaking to PPP workers.
In reference to Prime Minister Nawaz Sharif, Asif Zardari said Bilawal's demands from you are democratic; he has not threatened to take to streets or to attack democracy in the state, he noted.
"I am not coming to the Parliament to topple you; we only intend to teach you certain things, to consult with you on national issues," the PPP co-chairman addressed to the prime minister.
"We have fought dictators, but never raised our voice against the military," he said.
ardari also criticized PM Nawaz Sharif for his cordial ties with his Indian counterpart saying, "Mian sahib have you ever thought of the children in Kashmir as to what do they feel when you have luncheons with Narendra Modi".
Asif Ali Zardari said his party has no objection over an Ehtesab Commissioner picked by the Supreme Court. "We are not afraid of courts," he said, adding, "The case in which Babar Awan's license was cancelled should also be reopened.
PPP chairman Bilawal Bhutto Zardari announced the start of a political long march for the government to meet his party's four demands. Bilawal while asking party workers to start preparing did not announce a specific date for the start of the march.=DNA
===============