Yow & Wing wins finals to become Asian Squash champion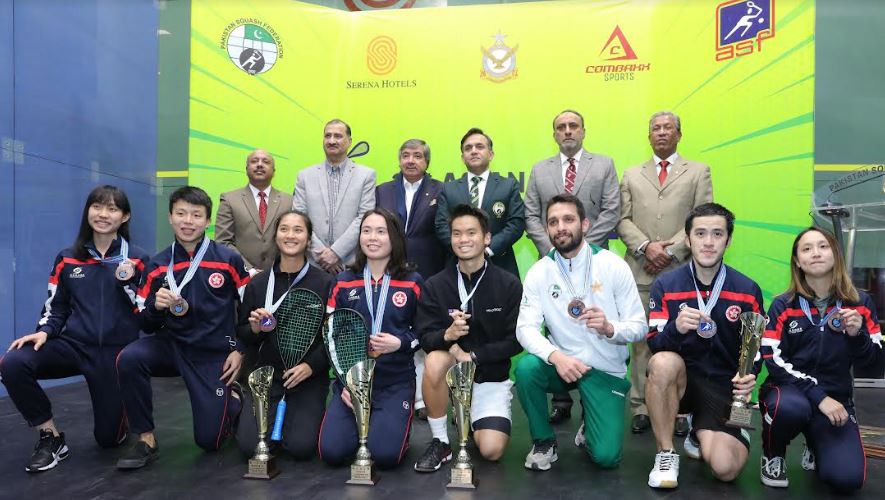 AFZAL JAVED
ISLAMABAD, Dec 19: Top seeded player Ng Eain Yow from Malaysia and Tong Tsz Wing from Hong Kong clinches the 21st Asian Squash individual championship titles in Men & Women here at Mushaf Squash Complex, Islamabad on Sunday.
In men's final Malaysian player Ng Eain Yow triumphed over Hong Kong's Yip Tsz Fung after an impressive performance with figures of 11-6, 13-11, 11-9 in 40 munities duration match.
In the women's final, Hong Kong's Tong Tsz Wing who was fourth seed defeated top- Malaysia's Rachel Mae Arnold 3-0. Tong Tsz Wing who earlier outclassed the top seeded Liu Tsz Ling showed the wonderful skills and ability against second seeded Rachel Mae Arnold to win the championship crown with a game score of 11-8, 13-11, 11-5 in 34 minutes.
Senior Vice President, Pakistan Squash Federation Air Marshal Aamir Masood, graced the closing ceremony as chief guest and distributed trophies and medals to the players. Squash legend Jansher Khan, Qamar Zaman, CEO Combaxx Sports and other dignitaries also witnessed the closing ceremony.
The Men's event had a draw of 32 players whereas the Women's event had 16 players' draw. Apart from Pakistan, a group of international players, officials and referees from Hong Kong, Iran, Kuwait, Malaysia, Qatar, Singapore & Sri Lanka participated.