Worth RMB 12.8 million: COVID-19 test kits donated by China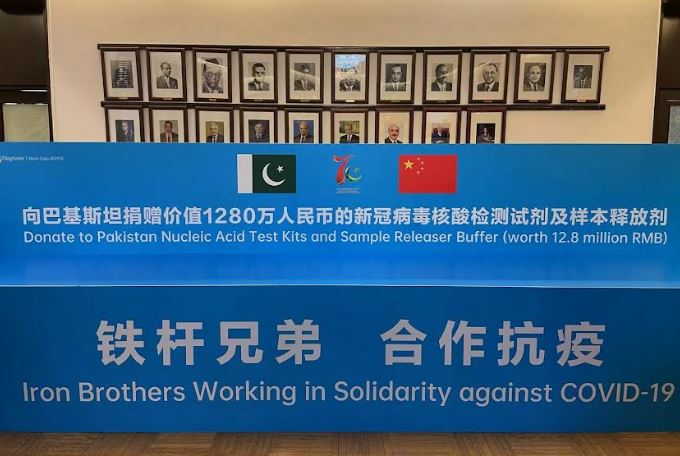 BEIJING, Nov 12 /DNA/ – The Chinese People's Association for Friendship with Foreign Countries (CPAFFC) and China Friendship Foundation for Peace and Development (CFFPD) initiated a donation of COVID-19 nucleic acid test kits and sample releaser buffer (worth RMB 12.8 million) to Pakistan. 
According to Gwadar Pro, the donation ceremony was held at the Pakistani embassy in Beijing.
This batch of materials were donated by Wuhan Easy Diagnosis Biomedicine Co., Ltd.
The total value is RMB 12.8 million, including 100,000 test kits and 100,000 sample releaser buffers independently developed and produced by the company.
The supplies will be used to support Pakistan in its fight against COVID-19 through providing 100,000 nucleic acid tests for COVID-19.
Moin ul Haque, Pakistani ambassador in China, delivered a vote of thanks at the beginning of the ceremony. He expressed his appreciation on behalf of the government and people of Pakistan: "this batch of donations indeed would be immensely helpful in supporting Pakistan's fight against COVID-19. As Iron Brothers and the most reliable partners, Pakistan and China stood together amid the crisis and extended to each other utmost support and assistance.
Chinese vaccines have been a backbone of Pakistan's inoculation drive and so far, about 130 million doses have been delivered to Pakistan from China. Today's ceremony is yet another demonstration of this act of friendship and generosity."
Li XiKui, Vice-chairman of CPAFFC, said at the ceremony that on October 26, 2021, during a phone conversation with PM Imran Khan, Chinese President Xi Jinping pointed out that China and Pakistan have worked together to tackle risks and challenges such as COVID-19, consolidating strategic mutual trust and deepening strategic cooperation. China will continue to support Pakistan in its fight against COVID-19.
"At present, the epidemic is still spreading in the world, and the virus keeps mutating. Only by strictly abiding by the laws and requirements of pandemic disease prevention and control, can we stop the spread of the epidemic.
Only through solidarity and cooperation can the international community contain and win victory over the global epidemic at an early date," Li emphasized.
Wang Rui, Deputy GM of Wuhan Easy Diagnosis Biomedicine, introduced their products which have performed well in China's fight against the pandemic. He announced that they will not only donate the materials but also provide Pakistan with their technical support.
Nucleic acid tests with high sensitivity, specificity and rapid reaction time play an irreplaceable role in the prevention and control of the pandemic and clinical diagnosis of suspected patients. Wang said:
"In the battle against the pandemic in China, we has served more than 2,000 medical institutions in China with COVID-19 (SARS-CoV-2) Nucleic Acid Test Kits. In addition, our products have been exported to more than 50 countries and regions. Today, we decided to donate our products to our iron brother."
Sha ZuKang, President of China-Pakistan Friendship Association, also delivered an impassioned speech. He believed that not only is China helping Pakistan, but Pakistan has been supporting China in all aspects and protecting the Chinese people.
"Although the donation today is huge, you can't put a price on China-Pakistan friendship. In the face of the Xinjiang issue, Hong Kong issue, Taiwan issue, Afghanistan issue and various disasters and challenges, China and Pakistan have always stood together," he said.
Ahmed Farooq, Minister/DCM of Pakistani embassy in China, Wang LongShe, Secretary-general of CFFPD, and other embassy staff and friendly people from both countries witnessed the event.