Women empowerment may help reduce poverty: Canadian envoy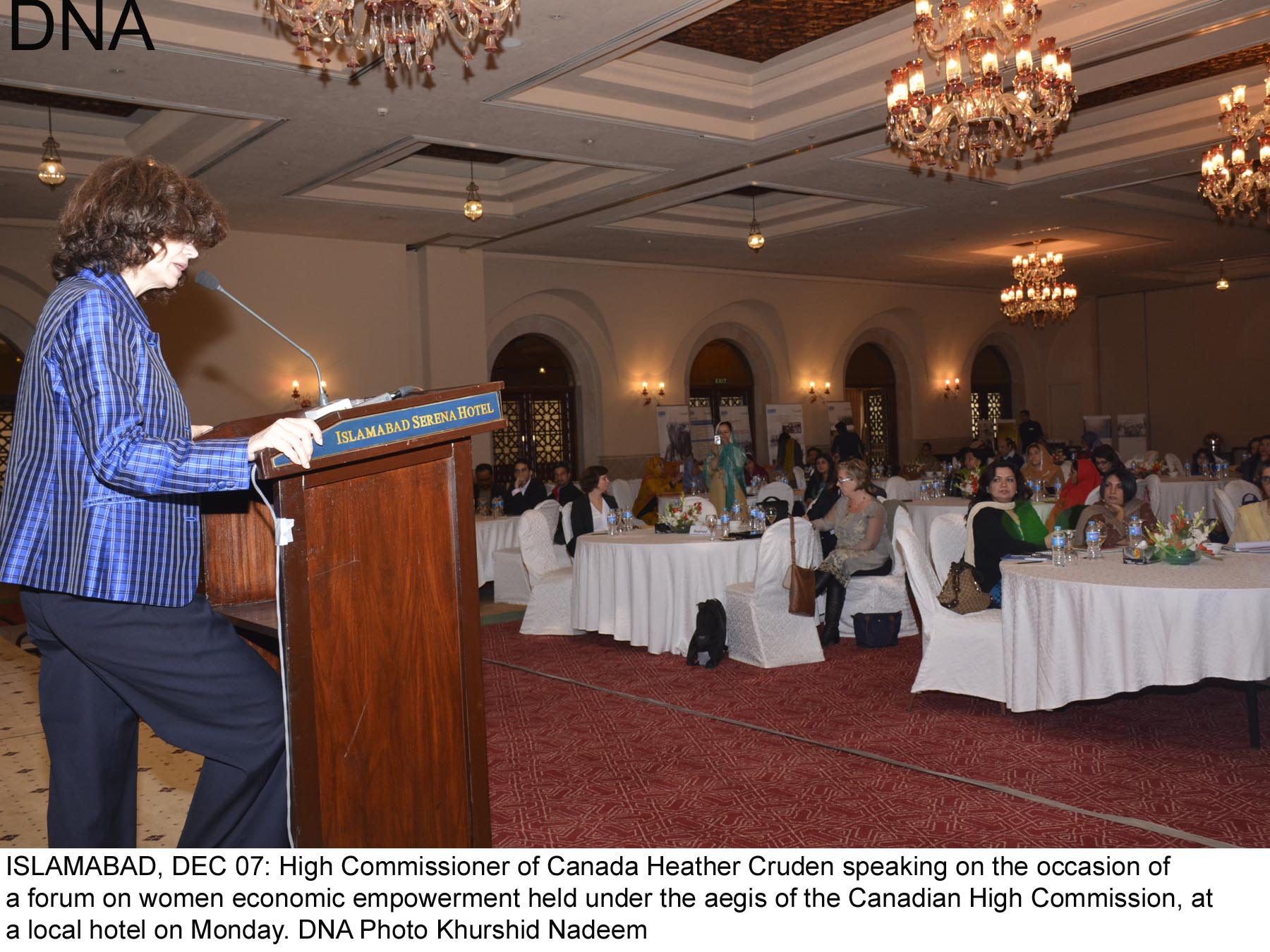 ISLAMABAD, 07 DEC, (DNA) – To support Pakistan in achieving its development and gender equality goals and to help stimulate sustainable economic growth, the High Commission of Canada organized a forum on women's economic empowerment in Islamabad on Sunday.Speaking on the occasion, Canadian High Commissioner, Heather Cruden said that since women make up half population of any country, so without empowering women and without using their talent, it's quite impossible to take a country to the stage of sustainable development, as there is a direct correlation between a country's GDP and women's engagement in the formal economy.
She said that women's equal participation in economic matters and empowerment decreases poverty, expands opportunities for development and benefits not only families but countries. "Gender equality and women empowerment are fundamental to whether and how societies thrive", she added.
The High Commissioner said gender equality, the empowerment of women and girls and the protection and promotion of their human rights are key Canadian values and so Canada has been particularly focusing them in Pakistan since 1990.
She added Canada, through its development assistance programme, was supporting many of the ingredients of women's empowerment i.e. skills trainings, business supportive services, financial education, strengthening provincial departments and the introduction of competency-based training and assessment.
Heather Cruden, further said that Canada, in collaboration with CARE, Kashf, PLAN, Agha Khan, ILO and other national and international organizations, increased employment opportunities for 3500 women in Sindh, trained 170, 000 women entrepreneurs in financial literacy, empowered women in Southern Punjab, and established five units in departments of labour in all the provinces of Pakistan including Gilgit-Baltistan.
"Despite numerous gains that Pakistani women and girls have made over the last few decades including pro-women legislation, there still remain wide gaps in gender inequality and social indicators for women and girls remain very low", The Canadian High Commissioner added.
She said according to IDRC, Canada development research institution, women have no or less access to quality education and as a result, they fail to compete in market. This situation not only affects women's own livelihood but also the economic growth of Pakistan.
"The national machinery is insufficient to promote women's economic empowerment. The low gender equality capacity, weak implementation of laws and deteriorating security situation all work against the women and girls of Pakistan", Heather Cruden said.
The Canadian High Commissioner, Heather Cruden, concluded that keeping in mind, the ongoing economic challenges faced by Pakistan, there is an urgent need for Pakistan to focus attention on women's involvement in economic activities, their rights and empowerment, and in this regard, Canada will always stand with Pakistan to achieve these objectives.
The forum, which has been an annual event since 2011, was attended by development professionals and partners, rural women, experts on gender and economic participation, as well as practitioners.=DNA
==============