Will empower every citizen of Kashmir by bringing new system: Imran Khan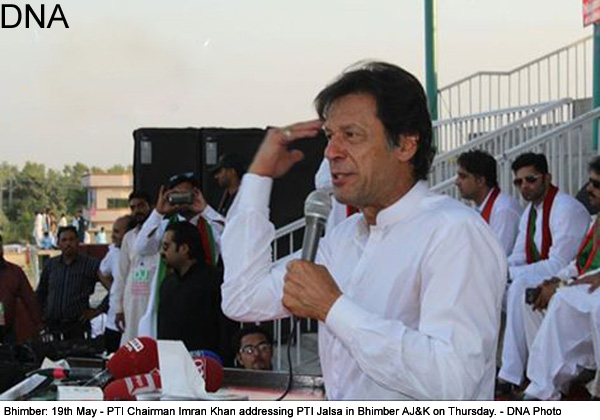 BHIMBER, 19 MAY (DNA) – Chairman Pakistan Tehreek-e-Insaf (PTI) Imran Khan said after winning elections, his party will empower every citizen of Azad Kashmir by introducing a system where National Accountability Bureau (NAB) will be independent and people at grass-root level to be endowed with powers by a functional local bodies system.
He said this while addressing the PTI rally here in Bhimber Azad Kashmir on Thursday.  Continuing his speech, he said if came to power; his party will focus on devolution of power after ensuring independent accountability for all.
Criticising the government, Imran Khan asked where did Rs. 5000 billion loan go that the government took in 3 years. "The rulers have pledged the people of the country to the International Monetary Fund (IMF) in return of heavy debts", he remarked.
Imran Khan continued his criticism on government by saying that daughter of PM Nawaz Sharif, Maryam Safdar, had said she had no offshore companies or assets, however Almighty Allah revealed truth about her offshore holdings before the nation.
Mocking Jamiat Ulema-e-Islam (JUI-F) leader Maulana Fazlur Rehman, Imran Khan said God has ridiculed the former in a way that whenever someone mentions 'diesel', Fazlur Rehman's name comes up. He advised Maulana to change the Islamic name of his party as for him Maulan's impious deeds are disrespecting the religion and the clerics of Islam.
He said PM Nawaz is seeking help from Fazlur Rehman to save the government, which indicates that PM is in trouble. The PTI chief said change is not possible without participation of people and eradication of corruption.
He asked how Nawaz Sharif will bring others' money back in country when his own wealth is not here.
"Leaders steal the wealth, illegally send it abroad and then lie in assembly," he said adding PM Nawaz told the tale of parrots thrice in Parliament instead of answering the questions of opposition about Panama Leaks. DNA