Will beat terrorism once we are united: Nisar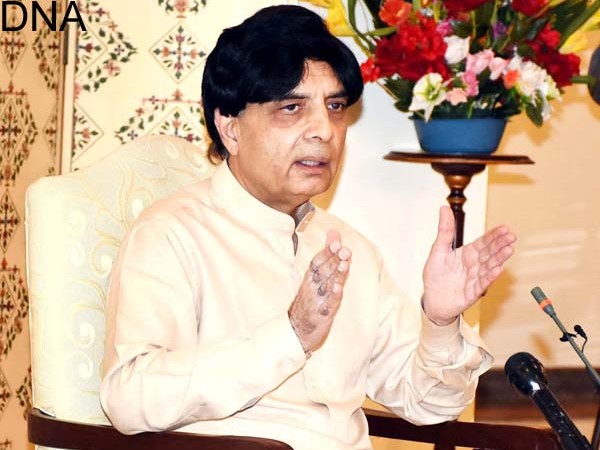 ISLAMABAD, 10 AUG (DNA) – Minister of the Interior Chaudhary Nisar Ali Khan while addressing in the National Assembly (NA) on Wednesday highlighted the current situation of peace in the country and compared it with that in the past.
Nisar said that there was not a single day in the past when not a single suicide blast struck the country. He added that Pakistan has suffered as a result of terrorism even more than Iraq or Afghanistan have suffered because of it.
He stated that the General Headquarters (GHQ) were attacked in the past, further adding that even airports and air-bases were not secure. Nisar said that the government aimed to hold talks with the terrorists as it was considered the best option at that time, further stating that the idea of negotiating with the terrorists failed as they (the terrorists) kept on attacking public places.
Interior minister said that the decision to initiate operation against the terrorist was made three months after holding a series of talks with them. He said that military leaders took part in meetings related to national security in order to give the message that civil-military leadership was on one page when it came to the country s security.
Chaudhary Nisar said that the operation against the terrorists could not have been a success without the cooperation of the public. He said that unity was required in order to minimise the activities of the terrorists.
"Those who are battling against terrorism are our heroes," said Nisar in the National Assembly. He added that the speeches made in the parliament yesterday (on Tuesday) were condemnable even if they were made in the parliament of any other country, adding that he was saddened over the speeches made. He stated that the terrorists should know that the nation is united.
Interior minister said that evidences regarding the Quetta blast were obtained, adding that the attack was well-planned and coordinated. He added that making implementation upon the National Action Plan (NAP) was a responsibility of all.
Nisar said that Pakistan s improving security situation was being acknowledged globally. While expressing his thoughts in the National Assembly earlier, Nisar stated that around thirty five million identification cards have been verified whereas twenty-nine thousand passports have been cancelled. He added that foreigners were a part of thousands of family trees, further stating that individuals having foreign nationalities had fake passports in their possession.
Interior minister said that the verification of identification cards was a national campaign, adding that even the identification card of such a person was made in Pakistan who died in a drone attack. Nisar stated that a parliamentary committee needs to be formed regarding national security further stating that another committee also needs to be formed for making corrections in the record. DNA