Vote count underway as polling ends in NA-193 by-elections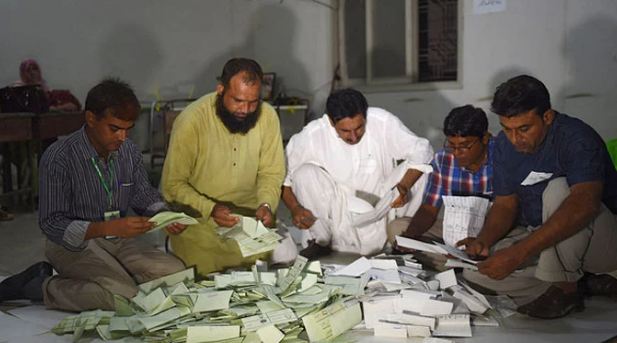 The counting of votes is currently underway after polling for by-election in Rajanpur's NA-193, National Assembly constituency, concluded peacefully.
The seat fell vacant after the death of Sardar Mohammad Jaffar Khan Leghari who was elected as MNA on a Pakistan Tehreek-e-Insaf's (PTI) ticket.
Earlier, Punjab Home Department had requested the Election Commission of Pakistan (ECP) to defer the by-polls due to security concerns, however, the electoral body turned down the plea.
The ECP said in a statement released this morning that the polling kicked off at the scheduled time 8am and will continue till 5pm without interval. It said that a control room had been established at the ECP's secretariat to monitor the election and address the complaints regarding the polling.
As per the electoral body, 11 candidates are contesting the by-polls, while there are 379,204 registered voters in the constituency, of which 206,497 are male and 172,709 are female voters.
The ECP said that 237 polling stations have been established in the constituency, where police personnel had been deputed for security. Meanwhile, 200 Punjab Rangers personnel are also fulfilling duties as a quick response force, the electoral body said, adding that strict action will be taken against those who violate the election code of conduct or disrupt the polling process.
The Pakistan Tehreek e Insaf (PTI) had nominated Mohsin Leghari for contesting by-polls on Rajanpur's NA 193 after PTI chief Imran Khan withdrew his nomination papers on account of fears of disqualification in Tyrian White case.
Meanwhile, Ammar Awais Laghari is contesting on a Pakistan Muslim League-Nawaz ticket and Akhtar Hassan Gorchani for Pakistan Peoples Party among eight others.
The seat had fallen vacant after the death of PTI lawmaker Jaffar Khan Leghari. He died on December 31, 2022 in Lahore after a prolonged illness.