President, PM, FM others condemn Barkhan blast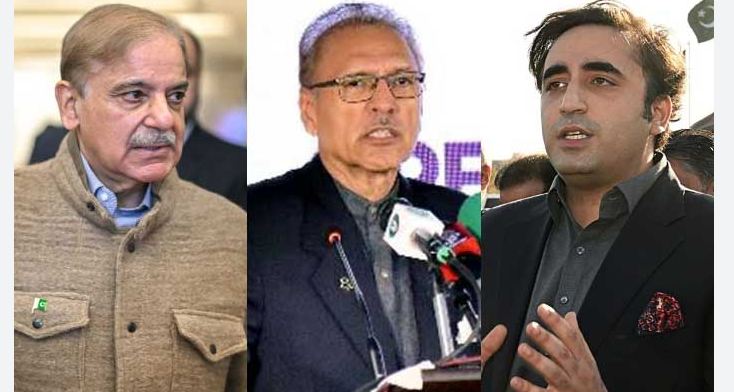 ISLAMABAD, FEB 26 (DNA) — President Dr Arif Alvi, Prime Minister Muhammad Shehbaz Sharif, Foreign Minister Bilawal Bhutto Zardari, Chief Minister Balochistan Mir Abdul Qudoos Bizenjo and others condemned a blast in Barkhan, Balochistan province which resulted in loss of precious lives.
The president and the prime minister expressed their deep grief over the loss of lives and expressed condolences with the bereaved families. They also prayed for the high ranks of the departed souls and for the early recovery of the injured, President Secretariat and PM Office media wings said in their separate press releases.
The prime minister summoned a report from the chief minister and inspector general of police over the incident. The president also stressed upon expediting efforts to completely eliminate terrorists.
The prime minister said that terrorists could not escape the punishment and those shedding innocent blood would be made an example. The prime minister also directed for the provision of best medical treatment to the injured.
The local media quoting the police officials said that the explosion apparently took place when an improvised explosive device (IED), planted on a motorcycle, exploded in Rakhni Bazaar. However, they were carrying out further investigation.
Chairman Pakistan People's Party (PPP) and Foreign Minister Bilawal Bhutto Zardari has strongly condemned the terrorist attack in Barkhan district of Balochistan.
According to a statement issued by Media Cell Bilawal House here Sunday, the Chairman PPP, in his reaction to the reprehensible violence in Rakhni Bazar, said that Pakistan was determined to root out those who target innocent citizens. "Terrorists have no religion or nation, they are brutal beasts in human form," he added.
Bilawal expressed his heartfelt condolences and solidarity with the families of the citizens, who were martyred in the terror-attack and prayed for the speedy recovery of the injured. Balochistan Chief Minister Mir Abdul Qudoos Bizenjo has condemned the blast and directed the authorities to take all possible steps to arrest the culprits.
"Those who shed the blood of innocent people are enemies of humanity," he added. Punjab Chief Minister Syed Mohsin Raza Naqvi also condemned the bomb blast in Barkhan area and expressed his sorrow over the loss of precious lives.
He said the Punjab government fully shared the grief and sorrow of those who have lost their near and dear ones. Former president and PPP Co-Chairman Asif Ali Zardari while condemning the incident asked the federal and provincial government to bring all the criminals involved in this act of terrorism to justice.
He expressed his sympathy and condolences to the families of those who were martyred in the blast.  He also prayed for the speedy recovery of the injured. — DNA