Virtual power plants make energy use greener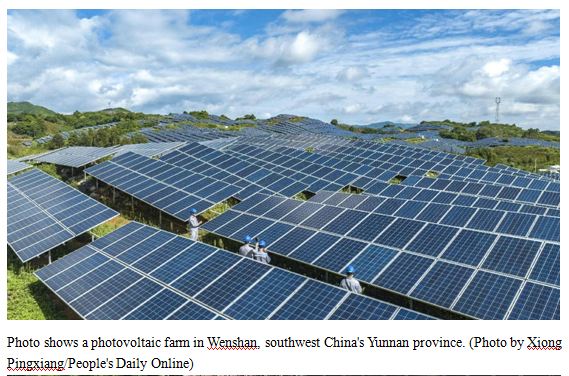 By Ding Yiting, People's Daily
In recent years, China's power load has continued to grow, and extreme weathers have become more frequent, making it more difficult to ensure power supply during peak periods.
In response to the continuous growth in power load and other challenges, many regions in China are actively promoting the construction of virtual power plants to strengthen power supply during peak periods.
With no towering chimneys or plant buildings, and consuming no coal or other fuels, virtual power plants are invisible and intangible, yet possess some of the attributes of physical power plants, such as peak shaving and frequency regulation services.
Yang Kun, Executive President of the China Electricity Council, introduced that a virtual power plant is a smart energy system that aggregates distributed energy sources, power users, energy storage, and electric vehicles. Through coordinated optimization and control, it not only meets the energy demands of users, but also participates in the operation of power system and electricity market transactions.
At 20:00 on July 24, peak load approached in Hefei, capital of east China's Anhui province. Chen Lu, who works for the State Grid Hefei Power Supply Company's Power Dispatch and Control Center, issued instructions of load adjustment to 25 electric vehicle battery swapping stations of an auto manufacturer through a virtual power plant. In just one minute, the power grid saw its load reduce by 13,000 kilowatts, equivalent to the electricity load of over 2,000 households.
"After receiving the instructions, the battery swapping stations experienced a decrease in their average power output, which led to a slight increase of approximately 5 minutes in the charging time for each battery. However, this didn't affect the time it would take for car owners to swap their batteries at these stations," said an executive of the auto manufacturer.
Companies joining peak shaving services can receive certain benefits. So far, Hefei's virtual power plants have been connected to various types of loads, including photovoltaic power stations, electric vehicle charging and swapping stations, energy storage stations, and air conditioning systems of buildings, with a total capacity exceeding 240,000 kilowatts.
In recent years, China has generally experienced an ample power supply but tightness during peak periods, which not always lasted long. Studies showed that for most provinces, the total duration when the power load exceeds 95 percent of the maximum load is only dozens of hours each year.
According to calculations, it could take several hundred billion yuan to build power plants and supporting grids in an attempt to ensure power supply in peak periods, but an alternative approach using virtual power plants could significantly reduce the cost to only 10 percent to 20 percent of what would be required for traditional power plants, said Sun Siyang, a researcher with the Energy Development Research Institute, China Southern Power Grid.
He believes that virtual power plants not only help gather decentralized demand-side resources, which eases supply-demand contradictions, but also save investment in traditional power plants and grids, allowing participating users to obtain certain incentives.
Apart from tapping into the potential of power load on the demand side, virtual power plants also improve the utilization efficiency of new energy from the supply side.
In Quzhou, east China's Zhejiang province, photovoltaic power generation accounts for over 40 percent of the province's total installed capacity. However, the reliance of photovoltaic power generation on weather conditions once posed a challenge to the stable operation of the power grid.
Recently, a "hydro-photovoltaic-storage" intelligent and flexible system was launched in the city, with over 300 hydropower stations, photovoltaic power stations and energy storage stations connected to a large virtual power plant. When there is excess power generated by photovoltaic systems, it is stored for later use. Conversely, when the capacity of photovoltaic power generation is insufficient, the stored power is utilized to fill the gap.
"In the past, dispatchers could only passively adjust resources after load fluctuations occurred based on their experience. Now through virtual power plants and technologies like big data and artificial intelligence, they can control hydropower, photovoltaic power and energy storage in an integrated manner, so as to predict and generate dispatching strategies in advance, preparing before problems arise," said Wu Chang, who is in charge of grid operation models at State Grid Quzhou Power Supply Company.
At present, China is accelerating the development of new energy. By the first half of this year, the installed capacities of wind power and photovoltaic power reached 389 million kilowatts and 470 million kilowatts, accounting for about 32 percent of China's total installed capacity.
As the proportion of new energy continues to increase, its intermittency, randomness, and volatility make grid regulation more difficult, and the balancing and security issues of the power system become more prominent.
Distributed photovoltaics developed rapidly, accounting for more than half of the newly installed photovoltaic capacity in the first half of the year, said Sun, adding these distributed new energy sources have been directly integrated into the distribution network, and when the scale reaches a certain level, they will pose certain challenges to the safe and stable operation of the grid.
He noted virtual power plants can help the grid absorb more fluctuating new energy sources, thereby enhancing the real-time balancing and security of power supply of the power system, and promoting green energy use.