Ukraine war zone: Villagers flee floods after dam destroyed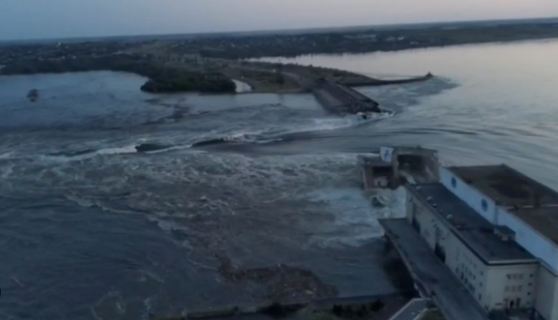 Both sides blame each other for the destruction of the Dam
KHERSON, JUL 6 /DNA/ – A torrent of water burst through a massive dam on the Dnipro River that separates Russian and Ukrainian forces in southern Ukraine on Tuesday, flooding a swathe of the war zone and forcing villagers to flee.
Ukraine accused Russia of blowing up the Nova Kakhovka dam in a deliberate war crime. The Kremlin said it was Ukraine that had sabotaged the dam, to distract attention from the launch of a major counteroffensive Moscow says is faltering. Some Russian-installed officials said the dam had collapsed on its own.
Neither side offered immediate public evidence of who was to blame. The Geneva Conventions explicitly ban targeting dams in war because of the danger to civilians.
By mid-morning in the city of Kherson in Ukrainian government-controlled territory downstream from the dam, a pier on a tributary of the Dnipro had already been submerged.
Ukrainian police released video of an officer carrying an elderly woman to safety and others rescuing dogs in villages being evacuated as the waters rose. Interior Minister Ihor Klymenko accused Russia of shelling areas from where people were being evacuated and said two police officers were wounded.
On the Russian-controlled bank of the Dnipro, the Moscow-installed mayor of Nova Kakhovka said water levels had risen to 11 metres (36 feet).
The Kazkova Dibrova zoo on the Russian-held riverbank was completely flooded and all 300 animals were dead, a representative said via the zoo's Facebook account.
The small town of Oleshky, on the Russian-controlled bank of the Dnipro, was almost completely flooded, a Russian-appointed regional official said on Tuesday.
"Evacuation … is possible only using special equipment," Andrei Alexeyenko, chairman of the Russian-appointed government of Ukraine's Kherson province, said on Telegram.
The dam supplies water to a wide area of southern Ukrainian farmland, including the Russian-occupied Crimean peninsula, as well as cooling the Russian-held Zaporizhzhia nuclear plant.
The vast reservoir behind the dam is one of the main geographic features of southern Ukraine, 240 km (150 miles) long and up to 23 km (14 miles) wide.
Breached dam in Ukraine's south unleashes floodwaters
An expanse of countryside lies in the flood plain below, with low-lying villages on the Russian-held southern bank particularly vulnerable.
Ukraine and Russia have both asked the U.N. Security Council to meet to discuss the dam. Ukraine accused Russia of an "ecological and technological act of terrorism", while Russia described it as an "act of sabotage carried out by Ukraine".