The beauty of northern regions is unparalleled: ambassadors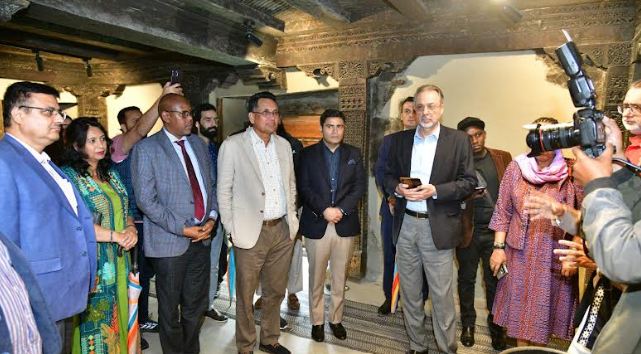 ISLAMABAD (DNA) Ambassadors of Bangladesh and Nepal have said that the ICCI International Tourism Summit 2023 is a very successful effort to promote tourism.Joint efforts are needed to promote tourism in the entire South Asian region including Pakistan, Bangladesh and Nepal.The northern regions of Pakistan are not only exemplary in their beauty, but their importance increases further with the vast business opportunities. They expressed these views while expressing his views regarding the ICCI International Summit.
Bangladeshi High Commissioner Md. Ruhul Alam Siddique has said that I congratulate the President Islamabad Chamber and his entire team for the successful organization of the "First ICCI Tourism Summit Skardu 2023".The initiative taken by the Islamabad Chamber to provide an opportunity to see the natural beauty of the northern regions has not only had a positive impact on the tourism industry of Pakistan but also improved the cordial relationship between the Islamabad Chamber and the High Commission.He said that there is a huge potential for tourism in the South Asia region. All the neighboring countries including Pakistan, Bangladesh need joint measures to attract tourists from other regions of the world.
Regarding the summit, Tapas Adhikari, Nepal's ambassador to Pakistan, said that Pakistan has a rich tourism heritage which can create tremendous economic opportunities.Islamabad Chamber's initiatives to expand the beautiful tourist destinations of Pakistan for economic activities and promote tourism are commendable.The first ICCI Tourism Summit in Skardu 2023 was a milestone to promote tourism in the Gilgit-Baltistan region which has the world's highest peaks in the Himalayas, Karakoram Range and Hindu Kush Mountains.I attended the summit with the rest of the diplomatic community and witnessed the hospitality, natural beauty, culture, history, food and agricultural products of the region.
President of Islamabad Chamber of Commerce Ahsan Zafar Bakhtawarisaid that I am extremely grateful to the foreign ambassadors for participating in the ICCI International Tourism Summit. Without their participation,we can not hold this summit successfully.I am happy that we have been able to present this best region of Pakistan to the world.The ambassadors of Turkey, Malaysia, Bangladesh, Syria, Somalia, Kenya, Nepal, Iran and other countries participating in the summit reviewed the beauty of the northern region and business opportunities.I hope the results of this concerted effort of the Islamabad Chamber will come out soon.He said that the success of Skardu as a tourist destination is not only dependent on government policies and infrastructure but also requires collective efforts of all of us.As ambassadors, government officials and civil society members, we have a shared responsibility to promote Skardu as a model for sustainable tourism.He said that tourism is not only an industry that promotes economic growth and development, but is a bridge that connects different cultures.