PPP proposes August 8 as date for dissolution of assemblies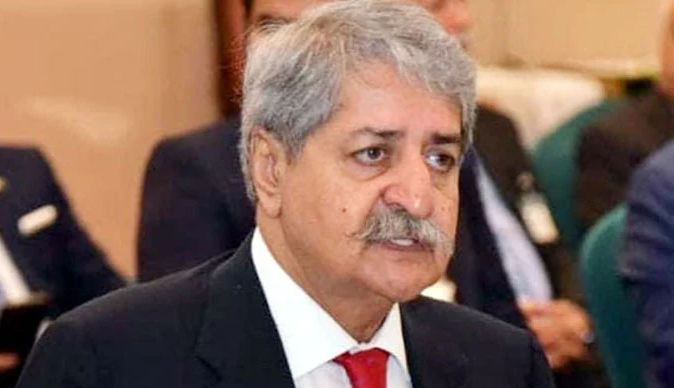 ISLAMABAD, JUL 11: Key ruling coalition partner Pakistan Peoples Party (PPP) on Tuesday proposed to the federal government to dissolve the national and all the provincial assemblies on August 8.
Prime Minister Shehbaz Sharif led federal government and all the provincial assemblies would complete their five-year constitutional term next month.
During an informal interaction with the journalists in Parliament House, Minister for Commerce and Investments Naveed Qamar said, "PPP has suggested the government to dissolve all assemblies on August 8."
'No extension in tenure of assembly'
Meanwhile, Federal Law Minister Azam Nazeer Tarar categorically stated that there would be no extension in the term of the National Assembly.
Talking to journalists, the minister said that they were committed to hold free and fair general elections.
"There are many minor flaws in the Election Act," he said, adding that a parliamentary committee was reviews the proposal of Free and Fair Election Network (Fafen), Pakistan Institute of Legislative Development (Pildat) and different political parties.
He vowed to make public the recommendations of the parliamentary body.
The statements came a day after Interior Minister Rana Sanaullah said the assemblies could be dissolved earlier than the scheduled date of August 13 to "facilitate" the Election Commission of Pakistan (ECP).
"If the assemblies get dissolved on August 11 instead of 13, the ECP will get more time to hold elections," he said while speaking on Geo News programme' Aaj Shahzeb Khanzada Kay Sath' in response to a question about the ruling party looking to delay elections till November.
He asserted that Pakistan Muslim League-Nawaz (PML-N) and its supremo, Nawaz Sharif, were clear that assemblies should be dissolved and elections held on time.
The Pakistan Tehreek-e-Insaf (PTI) had dissolved the Punjab and Khyber Pakhtunkhwa in January, while the legislatures in Sindh and Balochistan, as well as, the National Assembly, are yet to be dissolved.
The anchorperson then asked the minister whether the intention behind delaying the dissolution of the assemblies was to "facilitate the ECP or politics" so that verdicts were issued in cases against the PTI chief and Nawaz got time for the election campaign after his expected return before the polls.
Sanaullah said: "I don't think the difference of 20 to 30 days makes much of a difference. We have been managing matters according to constitutional requirements."
Sanaullah's statement comes as the final 30-day countdown to the end of the current parliament's term and the government's tenure is set to begin this week, and the term of the National Assembly, along with the provincial assemblies of Sindh and Balochistan, is set to expire on August 12.
Following the dissolution of the assemblies, a caretaker setup will take over government affairs in Islamabad, Karachi, and Quetta.
Similar interim administrations are already in place in Lahore and Peshawar since the dissolution of the Punjab and Khyber Pakhtunkhwa assemblies months ahead of their term end in January.