Tahirul Qadri decides to join PTI's Nov 2 protest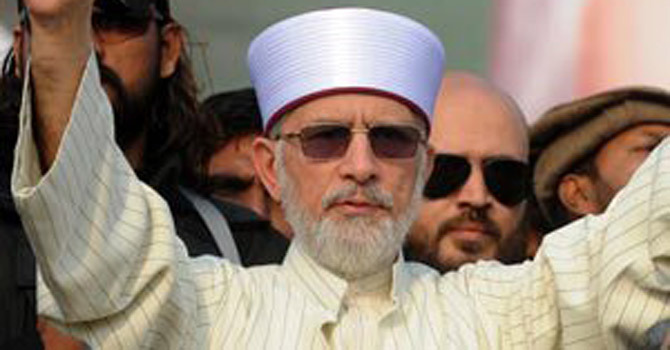 In a significant development on Monday, Pakistan Awami Tehreek (PAT) chief Dr Tahirul Qadri accepted Pakistan Tahreek-i-Insaf's (PTI) request to take part in their November 2 'lockdown' of Islamabad.
Imran Khan, who spoke with Tahirul Qadri via telephone, welcomed the PAT chief's decision to join the anti-government march planned for November 2.
Awami Mulsim League chief Sheikh Raseed, who was tasked to convince Qadri over the matter, also confirmed the development, it added.
"I have categorically accepted Imran Khan's invite to take part in the sit-in," Qadri said.
The workers of both the parties are fighting for the same cause, he added.
"I have informed Khurram Nawaz Gandapur about my decision, now the party representatives will meet and discuss the future plan of action," said Tahirul Qadri.
PTI has already asked all democratic forces to join the movement for strengthening democracy and getting rid of the current government.
Earlier in September, Qadri's PAT had distanced itself from the PTI's Raiwind march.
The PAT had announced to part ways from "the PTI's Raiwind march as it might lead to siege of the private residence of Prime Minister Nawaz Sharif".
At that time Tahirul Qadri had supported the stance of the Pakistan Peoples Party and Pakistan Muslim League-Quaid which had opposed staging a sit-in outside the Jati Umra residence of the premier.
PTI's plan B
The PTI has also prepared a strategy to tackle the sit-in and any possible crackdown against the party.
PTI workers will gather at Faizabad and march towards Zero Point under Mr Khan's leadership. "Blocking Zero Point will render Kashmir Highway, I.J. Principal Road, Murree Road and Islamabad Expressway closed and the federal capital will be in lockdown," a senior official told Dawn.
"Party leaders are of the view that the government will close the roads themselves, helping the party's plan to besiege Islamabad," he said.
If PTI workers are arrested ahead of the lockdown of the capital city, the party plans to lay siege to the police station where they will be held.
PTI leadership has also directed party workers to avoid arrest and "if anyone arrested, then more than 200 workers will immediately reach that police station."