Suicide car bomb strikes near police base in Kabul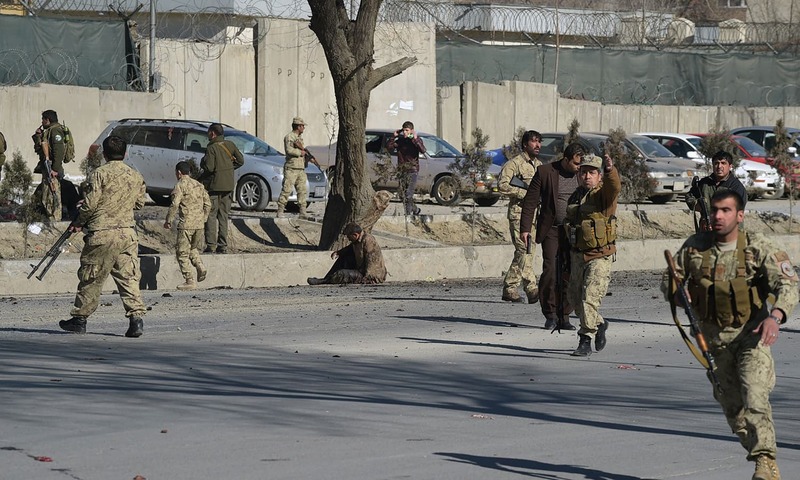 KABUL: A suicide car bomb rocked a police base in central Kabul on Monday, leaving several bodies strewn around the area, officials reported.
No group immediately claimed responsibility for the attack, which comes amid the Taliban's unprecedented winter offensive despite a renewed push to restart formal peace talks.
"A suicide car bomb in the vicinity of a police base in Kabul city, " interior ministry spokesman Najib Danish told media. "There are some possible casualties".
An AFP photographer saw at least 10 bodies around the base, but it was not immediately possible to determine the number of fatalities.
Ambulances rushed to the scene, which was cordoned off by authorities.
The attack comes just ahead of a third round of four-country "roadmap talks" trying to lay the groundwork for direct dialogue between Kabul and the Islamist group.
Delegates from Afghanistan, Pakistan, China and the United States are set to convene in Islamabad on February 6 in a bid to seek a negotiated end to the 14-year Taliban insurgency.
The Taliban have stepped up attacks on government and foreign targets in Afghanistan this winter, when fighting usually abates, underscoring a worsening security situation.
Observers say the intensifying insurgency highlights a push by the militants to seize more territory in an attempt to wrangle greater concessions during talks.
Militants and bad weather in northern Afghanistan have hampered efforts to repair power lines that were destroyed last week, cutting electricity in the capital, Kabul, to about six hours a day, officials said on Monday.
Insurgents last week destroyed an electricity pylon in the Dand Shahabuddin district of Baghlan province that brought power from Uzbekistan to meet almost half of Kabul's 600 megawatt daily requirement.
Mirwais Alami, chief commercial officer at Afghanistan's national power company, said repair crews had been unable to get close to the power lines because of mines and the threat from insurgents and said residents reported that more pylons had been brought down.
"Enemy forces have brought machine saws and have been cutting down electricity pylons," he said.
The Taliban has denied being responsible for bringing down the power lines, saying such tactics, which hit ordinary people, do not fit with their fight against the foreign-backed government.
The destruction of the power lines has hit businesses and industry and added further misery for Kabul's long-suffering residents, already tested by a series of suicide bomb attacks this year.
For the well-off with private generators, the cuts have meant higher fuel bills but for those who rely on the public grid, they have meant dark nights and reliance on wood-burning stoves to fight the winter cold.
Abdul Satar Barez, the provincial governor of Baghlan, said operations to secure the area in order to allow repair crews to work on the pylons had been suspended due to fog and bad weather.
"Taliban are still in the area, they are a threat and danger and we cannot launch our operation now. We are waiting for the weather to get better," he said.