Suicide bomber kills at least 12 in Baghdad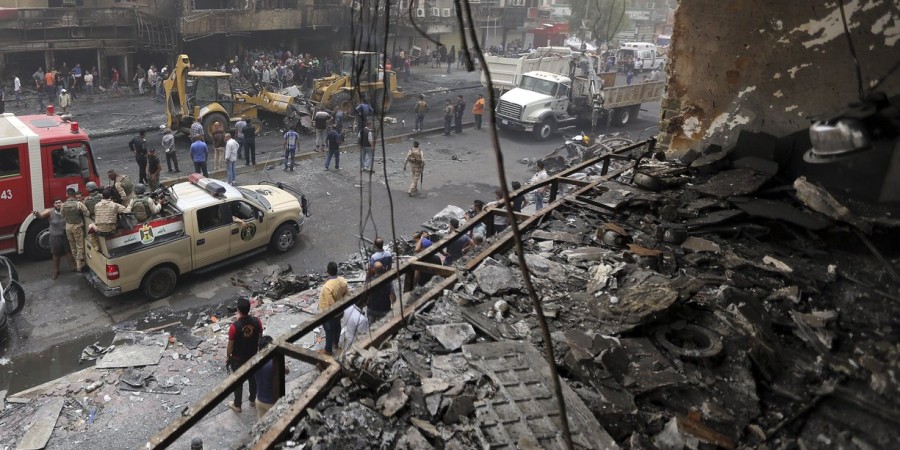 BAGHDAD: A suicide bomber has attacked a security checkpoint in northern Baghdad, killing at least 12 people, Iraqi officials said.
The bomber, who was on foot, detonated his device at one of the busy entrances of the Shia district of Kadhimiyah, killing at least nine civilians and three policemen, a police officer said. At least 32 other people were wounded, he added.
Three more civilians were killed and 12 wounded in a bomb explosion in an outdoor market in Baghdad's western suburb of Abu Ghraib, another police officer said.
Two medical officials confirmed the casualty figures. All officials spoke on condition of anonymity as they were not authorized to release information.
No group has immediately claimed responsibility for the attacks, which bore the hallmarks of Islamic State. Security forces and public areas, mainly in Shia neighbourhoods, are frequent targets for the group, which controls key areas in mainly northern and western Iraq.
jihadist group carries out frequent suicide bombings targeting both Iraqi security forces and members of the country's Shiite majority, whom it considers heretics.
A suicide bomber targeted shoppers in Baghdad's central Karrada district earlier this month, killing 292 people, while an attack on a Shiite shrine in Balad, north of the capital, left 40 dead a few days later.
Daesh overran large areas north and west of Baghdad in 2014, but Iraqi forces have since regained significant ground and are conducting operations to set the stage for the battle to recapture Mosul, the last Daesh-held city in the country.
But the Daesh militants have responded to the battlefield setbacks by hitting back against civilians, and experts have warned there may be more bombings as the jihadists continue to lose ground.
Since late last year, the group has suffered a string of territorial losses, most recently last month in Fallujah, where it was driven out by Iraqi forces after occupying the city for more than two years.
But the extremists have continued to carry out near-daily bombings in and around Baghdad, as well as attacks in other countries.