Shavkat Mirziyoyev re-elected as Uzbekistan's President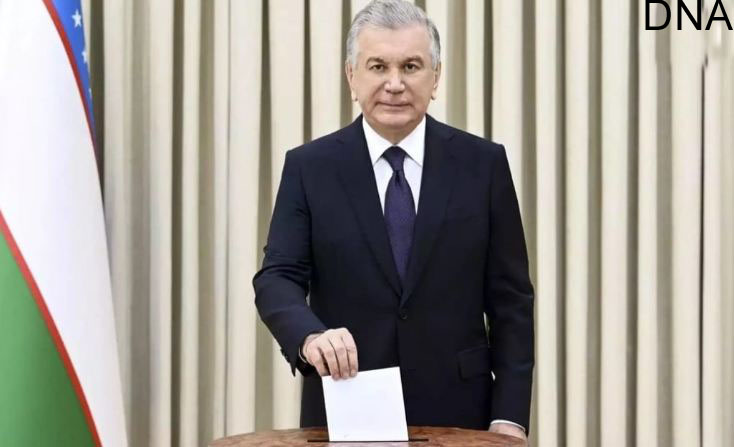 TASHKENT, JUL 10 (DNA): President Shavkat Mirziyoyev has secured a landslide victory in the presidential election held on July 9, being re-elected as the President of Uzbekistan with an overwhelming 87.1% of the vote.
The Central Election Commission of Uzbekistan announced the preliminary results, revealing the extent of the president's popular support.
A significant number of voters participated in the election, with 15.6 million citizens, accounting for 79.8% of registered voters, casting their votes. Among them 87.05% voted in the favour of Shavkat Mirziyoyev.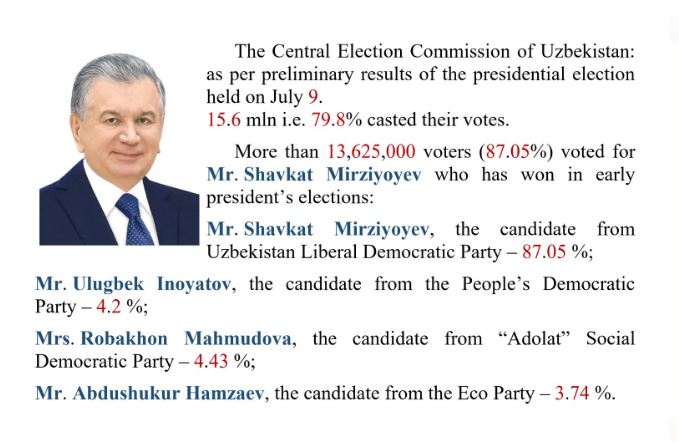 Voting across the landlocked country of around 36 million people began at 8:00 am local time which continued uninterrupted till 8 pm. In some areas voting concluded even before time. The Uzbek government had made elaborate arrangements for the Uzbek Diaspora living in various countries.
The Uzbek missions in various countries were turned into the polling station and the process was completed well before the holding of the Presidential election on July 9, 2023.
Under the rule of President Shavkat Mirziyoyev, Uzbekistan has strengthened traditional relations with Beijing and Moscow. Both Pakistan and Uzbekistan also enjoy excellent relations. The recent visit of the Uzbek President to Pakistan had further strengthened this relationship.
Pakistan values its relations with Uzbekistan, rooted in religious affinity, common values, geo-strategic significance, potential for mutually beneficial and enhanced economic and defence cooperation. On several occasions leaderships of both countries have reiterated the desire to further enhance bilateral relations including efforts for peace and security in the region.
It may be mentioned here that a high powered Pakistan delegation comprising parliamentarians and media people also witnessed the electoral process. Among them included Pakistani Senators Faisal Saleem Rehman, Sitara Ayaz, Editor Daily Islamabad POST/DNA and Centreline magazine Ansar Mahmood Bhatti and others.
After the referendum while talking to members of the Parliament the President had said that It's easy to say, but we have to work hard to put the reforms into practice. For these purposes, allocating an additional 30-40 trillion UZS from the State budget annually is necessary. Due to this, every year, we will have to build hundreds of new kindergartens, schools, and hospitals.
'As a priority task, we will also use new opportunities to raise youth policy, development of education and upbringing, science, culture, and sports to a new level. We will regularly increase wages, pensions, allowances, and stipends. We will further expand the range of social services for our veterans, lonely elderly people, people with disabilities, and citizens in need of special attention and care", the President said.
In the renewed Constitution, Uzbekistan is defined as a state of law. The number of norms on human rights guarantees has also increased thrice, he said.=DNA
=========