Shangla campus of Swat University inaugurated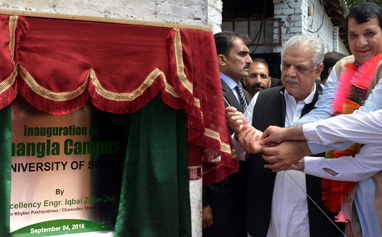 SHANGLA: Khyber Pakhtunkhwa Governor Iqbal Zafar Jhagra has said that people have great expectations from the newly-established campus of Swat University in Shangla district and that he is confident that the institution would contribute significantly to the development of the region.
He was addressing the inaugural ceremony of Shangla campus of Swat University at Alpuri here on Sunday.
The governor also addressed a gathering of elders and people of the area, which was organised by local PML-N leaders. PML-N senior vice-president Amir Muqam and district president Intikhab Alam, MNA Ibadullah, district nazim Niaz Ahmed and tehsil nazim Mohammad Tahir also spoke on this occasion.
Assures all-out support to the institution
The governor said that the government had launched several schemes for promotion of education like Prime Minister's Fee Reimbursement Scheme, Prime Minister's Laptop Scheme, etc. He promised to ensure provision of 100 laptops for students of the new campus.
Mr Jhagra hoped that the campus would achieve the objective of providing quality education to students of this remote area. Appreciating the presence of a large number of people on the occasion, he said that it reflected their enthusiasm to ensure better future for their children.
The governor assured the gathering that he would extend support to the institution in its future endeavours.
Addressing the public meeting, the governor also promised to take necessary steps for evaluating establishment of a cadet college in Shangla.
Earlier, vice-chancellor of Swat University Prof Jehan Bakht presented a report regarding the new campus and put forward certain suggestions to ensure provision of quality education to the students.
Mr Muqam said that bringing reforms in education was PML-N's top priority so that every child could get education. He criticised the stubbornness of PTI chairman Imran Khan and PAT chief Tahirul Qadri, adding they were bent on sabotaging development efforts of the federal government.
Meanwhile, Muttahida Qaumi Movement, Shangla president, Jehanzeb Khan resigned from the party and demanded action against party's founder Altaf Hussain over his anti-Pakistan statement. Speaking at a press conference at Bisham on Sunday, he said that he would soon join some other political party.