Shaheen Air plane crash landing at Lahore airport injures 10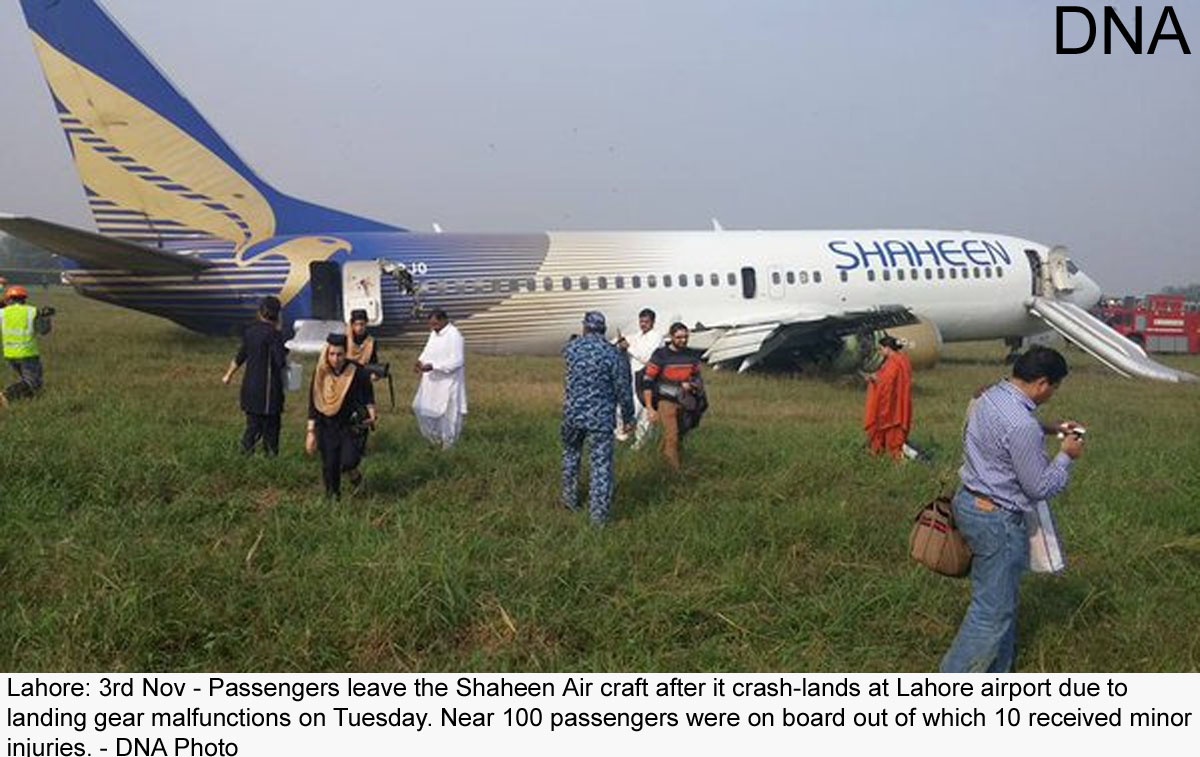 LAHORE: At least 10 passengers were injured as the tyre of a domestic Shaheen Air International flight burst during an emergency landing at Allama Iqbal International Airport on Tuesday.
The Karachi-Lahore flight NL-142 was carrying more than a hundred passengers, airport sources say. Shaheen Airlines flies four flights from Karachi to Lahore daily.
The injured were provided with immediate medical treatment. None are said to be in critical condition.
The plane skidded off the Lahore runway when faulty landing gear caused the tyre to burst, according to initial reports.
The fuselage of the aircraft was damaged after the plane skidded off the runway.
The pilot of the aircraft had given prior intimation to airport authorities regarding the fault in the landing gear before making the emergency landing. Aviation authorities and the fire brigade reached the spot in a timely manner.
A passenger of the flight told reporters that, "The aircraft was facing some problems even at the time of take off from Karachi's Jinnah International Airport (JIA)." He said that the tyre of the aircraft had broken off on the impact of landing at Lahore and added that the turbulent landing had also caused luggage to fall upon some passengers.
Another passenger said that, "Everything was alright and fine, even until two minutes before landing everything was alright. I am not sure what went wrong at the time of landing, whether it was fault with the plane or anything else."
Fearful and panicked passengers were evacuated through an emergency gate. "This seems to be a normal landing which resulted in a runway excursion," a pilot of an international airline said.
Director of Engineering at Shaheen Air International, Syed Samin Uddin Naqvi, told media that, "The aircraft was checked before the flight according to standard procedures." He said that the airline would also conduct its own investigation into the incident. Naqvi claimed that no passengers were injured during the landing.
Civil Aviation Authority (CAA) Pakistan spokesman Pervez George said that a Safety Investigation Board would probe the incident.
All domestic flights at the airport were delayed as a result of the incident, according to a tweet by CAA. The delayed flight numbers are as follows: Shaheen Airlines flight NL-143, Pakistan International Airlines flights PK-303 and PK-652.
PIA Spokesman Daniyal Gilani told media that confirmation for flight timings could be made on the following number: 111-786786
Despite the emergency landing the main runway of the airport is still active for wide-body aircraft, said another tweet by CAA. In July 2015, the Civil Aviation Authority (CAA) ordered grounding of four aircraft, including two Airbus A330s, an Airbus A320 and a Boeing B737-400. of Shaheen Air, citing safety concerns. CAA spokesman Pervez George had said that the aircraft were grounded as they did not meet safety standards.
Pakistan's airline industry has been tarnished by a string of tragic accidents in recent years. Earlier in 2014 a similar incident involving Shaheen Airlines had taken place when flight NL-48 had skidded off the runway at Allama Iqbal International Airport.
In April, 2012, all 127 on board Bhoja Air's Boeing 737-200 lost their lives when the flight flew from Karachi airport but crashed five kilometers from Islamabad.
Earlier in July, 2010, an Airblue jetliner crashed into Islamabad's Margalla hills, killing all 146 passengers and six crew members on board.