OSCE monitoring team fired by Armenian military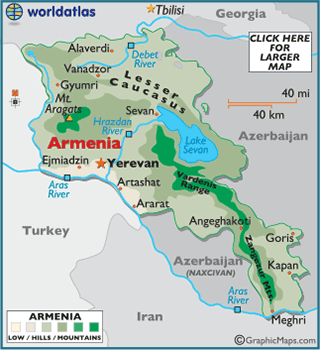 NOV 03 (DNA) -On 27 October 2015, upon initial agreement the OSCE Minsk Group co-chairs passed from the occupied territories of Azerbaijan through the line of contact between the armed forces of Armenia and Azerbaijan to the territories controlled by Azerbaijan army. At the very moment a ceasefire monitoring exercise was conducted by the Personal Representative of the OSCE Chairman-in-Office and his field officers on the road between Tartar and Aghdara (Tartar district of Azerbaijan). Despite prior agreement to undertake measures to ensure safety of the OSCE personnel, repeated gunfire was shot from the occupied territories controlled by Armenia's armed forces in the direction of the positions of the armed forces of the Republic of Azerbajjan. This incident forced the OSCE monitoring team to seek protection of the Azerbaijani armed forces.
According to the representatives of the Ministry of Defense of the Republic of Azerbaijan, who were on the ground at a time of the incident, the OSCE team immediately contacted the opposite side to have the fire halted and to renew guarantees to hold fire. It is regrettable that despite the obvious source and direction from which shots were fired, the Co-Chairs did not find space in their statement of 29 October 2015 to reflect properly this incident and did not name the violator. However, this does not relieve the Armenian side of the responsibility for this and other numerous provocations.
The Republic of Azerbaijan shares the assessment of the Co-Chairs that this incident represents a deliberate attempt to undermine efforts towards a settlement. Azerbaijan has repeatedly brought to the attention of the international community that over the past years and, specifically, since January 2015, cease-fire violations and armed provocations of the Armenian side have become more frequent and violent, causing, inter alia, deaths and injuries among Azerbaijani civilians, including women and children. Ahead of the next round of talks in September 2015, in New York, Armenia's armed forces dramatically intensified cease-fire violations, using mortars and large-caliber machine guns and artillery, specifically targeting Azerbaijani civilians living in the areas along the Line of Contact.
It is worth to recall that just after another round of talks of Azerbaijan and Armenian Presidents in Paris on 27 October 2014, arranged by the President of the French Republic, Mr. Francois Hollande, on 6 November 2014, the armed forces of Armenia started large-scale military exercises in the occupied territories of Azerbaijan. On 12 November 2014, two "Mi-24" attack helicopters of the air forces of the Republic of Armenia, which were also deployed for the military exercises, approached and made attack maneuvers in the immediate vicinity of the positions of the armed forces of Azerbaijan in the occupied Aghdam district of Azerbaijan. As response to this attack, one of the helicopters was shot down.