Senator Mushahid praises Baqai's unbiased approach in new book on Foreign Affairs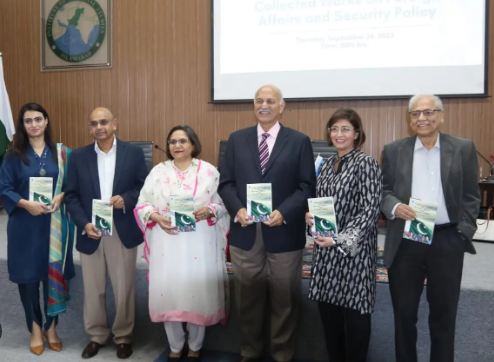 DNA
ISLAMABAD, Sept 30: The Institute of Regional Studies (IRS) Islamabad organized a Book Launch ceremony for Professor Dr Huma Baqai's recently released book titled 'Collected Works on Foreign Affairs and Security Policy'. During the event, the discussants complimented Dr Baqai for putting together a much needed addition to the discourse on Pakistan's foreign relations and some of the most pertinent nuances of security policy.
Senator Mushahid Hussain Sayed said that the essence of Prof Dr Baqai's book was that it had been written with an open mind without any pre-conceived notions and that it sought truth from facts instead of mere opinions. He further added that the era covered in the book was extremely significant as the instances quoted therein revealed absence of institutionalized decision-making as a major underlying factor behind poor policy-making over the years.
Mr Zahid Hussain, Senior Journalist commented that Prof Dr Baqai had produced a seminal book capturing the past six years of international relations that had witnessed some monumental developments. He added that book was a very timely addition to the contemporary discourse as it also shed ample light on the return of the Taliban to power as well as the changing dynamics of the Pak-US ties.
Ambassador Naghmana Hashmi congratulated Dr Baqai on the publication of her book. She said that the book was an excellent resource to understand the recent developments in foreign affairs and offered a detailed analysis of the geopolitical, geo-economic and geo-strategic developments that affected Pakistan. Ambassador Nadeem Riyaz, congratulated Prof Dr Baqai and said that not only the book was a timely contribution but its most laudable aspect was its readability.
Professor Dr Huma Baqai thanked the IRS, particularly Ms Reema Shaukat for organizing the Book Launch ceremony. She detailed the various stages of data collection during the writing of the book and commented that the intellectually-starved youth of Pakistan was direly in need of a direction.
Some notable attendees at the event included, Ambassador Sohail Mehmood, Mr Chaudhary Faisal Mushtaq, Major General Asif Yasin Malik, Dr Salma Malik, Dr Khalid Banuri and other worthy members of the academia and civil society.