Senate resolution extends support to oppressed Palestinians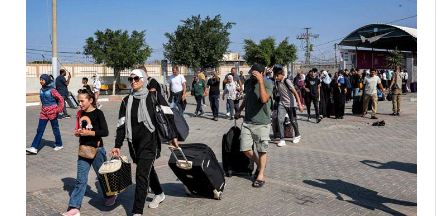 ISLAMABAD, NOV 01 (DNA) — The Senate on Monday unanimously passed a resolution expressing strong support and solidarity with the oppressed Palestinian people facing Israeli aggression in Gaza City.
The resolution moved by Leader of House Ishaq Dar reiterated Pakistan's principled policy on supporting the inalienable right of self-determination of Palestinians and their right to an independent state of Palestine with Al-Quds Al Sharif as its capital.
The resolution strongly condemned the Israeli crimes against humanity and state terrorism being perpetrated against children, women and men of Palestine in Gaza- the world's biggest open prison. It also denounced the double standards and hypocrisy of those who are supporting Israel as their partners in crimes, noting they also oppose an immediate ceasefire in beleaguered Gaza.
The resolution demanded an immediate ceasefire and an end of blockade in Gaza, stressing that full access of the territory be allowed to all international humanitarian organizations so that relief supplies, medicines, food and water can be supplied to the beleaguered Palestinians.
The house also called for an end to Israeli aggression and occupation as well as termination forthwith of all Israeli activities aimed at desecration of holy places of Muslim Ummah.
Winding up discussion on a motion regarding Israeli atrocities and aggressive actions against the innocent Palestinians, in Senate today, caretaker Foreign Minister Jalil Abbas Jilani said Pakistan has always supported the people of Palestine and will continue to stand by them in future as well.
The Foreign Minister demanded an immediate withdrawal of Israeli troops from Occupied Palestinian territory and restoration of the rights of Palestinians. He reiterated Pakistan's support for an independent and viable state of Palestine with Al-Quds Al Sharif as its capital.
The Foreign Minister said it is our religious and national duty to support the Palestinian people against the brutal Israeli occupation. He said we should all show solidarity towards the oppressed people.
Tracing the history of the Palestinian issue, Jalil Abbas Jilani said this is a longstanding unresolved issue on the UN Agenda just like Kashmir dispute. He said there are UN resolutions on both the issues, regretting that these have not been implemented.
The Foreign Minister pointed out that Israel has unleashed an unprecedented wave of terror against Palestinians since 7th of last month. He said according to the UN's estimates about 8500 Palestinians have been martyred including 3500 children. He said Israel has also expanded its attacks beyond Gaza to West Bank. He said Israel has been breaching all international and humanitarian laws.
The Foreign Minister said Pakistan has played a pro-active diplomatic role ever since the launch of recent hostilities by Israel. He said the government of Pakistan has sent a clear message of solidarity to the Palestinian people.
He recalled caretaker Prime Minister Anwaar-ul-Haq Kakar held telephonic conversation with Palestinian President Mahmoud Abbas. He said it is because of the efforts of Pakistan and Saudi Arabia that an extra ordinary session of the OIC was held in Jeddah which demanded an immediate ceasefire in Gaza, provision of humanitarian assistance to Palestinians forthwith, release of prisoners and the revival of peace process at the earliest.
Others who spoke on the motion included: Rukhsana Zuberi, Keshoo Bai, Hafiz Abdul Karim, Khalida Sikandar Mandhro, Shaheen Khalid Butt, Atta-ur-Rehman, Syed Muhammad Sabir Shah, Fawzia Arshad, Sana Jamali and Muhammad Abdul Qadir.
The Senate is continuing discussion on a motion regarding Israeli atrocities and aggressive actions against the innocent Palestinians. Participating in the debate, Irfan-ul-Haque Siddiqui regretted that the Muslim countries have failed to forcefully raise their voice for the protection of lives and properties of the Palestinian people.
Saadia Abbasi paid tributes to the sacrifices of Palestinian people. She said Israelis have no right over the Palestinian territory. Nisar Ahmed Khuhro said the world organizations including the United Nations should play their role for the resolution of Palestine and Kashmir disputes. He said our sympathies will always remain with the Palestinian people.
Bahramand Khan Tangi said the people of Pakistan stand by their Palestinian people in this difficult hour. He said we should also send financial and humanitarian assistance to the Palestinian people.
Prince Ahmed Umer Ahmedzai strongly denounced the killing of innocent civilians and children in Gaza, stressing the Muslim countries should come forward for their protection. Saleem Mandviwalla was appreciative of the Turkish President's strong statement in support of Palestinian people.
Muhammad Qasim said Israel is committing genocide of Palestinians. He said the atrocities taking place against Palestinians have never been seen before. The House has now been prorogued. — DNA