Japan self-defense forces day celebrated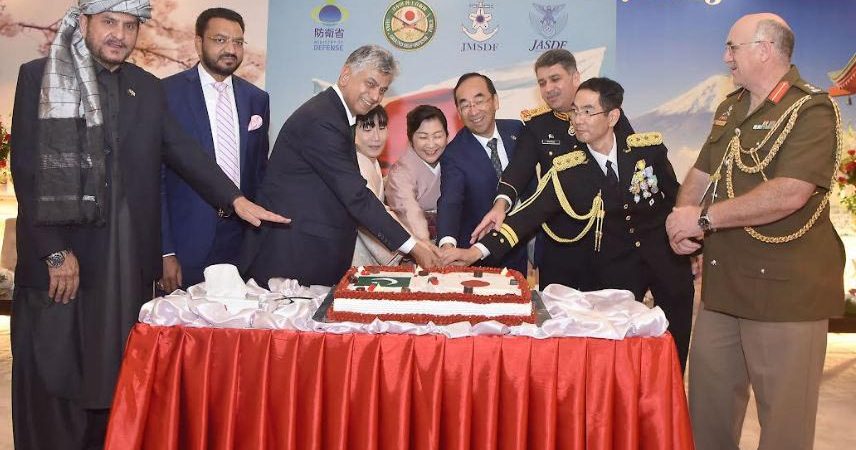 ISLAMABAD, NOV 1 /DNA/ – Ambassador of Japan to the Islamic Republic of Pakistan, WADA Mitsuhiro and WADA Naoko hosted a reception on Wednesday, November 1st, 2023, to celebrate the 69th anniversary of the Japan Self-Defense Forces (JSDF) Day. Defense Attaché, Colonel ABE Kazuo represented the Japan Self-Defense Forces (JSDF) at the Embassy.
Lt Gen Sarfraz Ahmed, HI(M), was the chief guests on the occasion.
The reception was attended by the military officials as well as Ministers, parliamentarians, senior members of the Government of Pakistan, members of the diplomatic community and other dignitaries from the public and private sectors.
In his remarks, Ambassador WADA stated "I am very pleased to see the progress in defense exchanges and cooperations between Japan and Pakistan," and "I believe that the deepening of the exchanges and cooperations between the JSDF and Pakistan Armed Forces, in addition to the grassroots cooperation, will lead to the strengthening of the Japan-Pakistan relations."
In February, the Maritime Self-Defense Force participated in the multilateral joint exercise "AMAN23" hosted by the Pakistani Navy. In August, the two countries co-hosted the Preparatory Meeting for the UN Peacekeeping
Ministerial in Islamabad. In September, the 9th Japan-Pakistan Security Dialogue was held in Tokyo to discuss a wide range of issues including foreign policy, security policy and counter-terrorism measures.
With regard to disaster relief, in the earthquake in 2005 and the floods in 2010 in Pakistan, the JSDF dispatched a helicopter unit to transport relief supplies and affected people as part of the Japan Disaster Relief Team.
In March this year, in cooperation with the Pakistan Armed Forces and NATO, the JSDF conducted the airlift operation for the people of Türkiye affected by the devastating earthquake. As part of this operation, the JSDF transported tents and winter kits from Pakistan to Türkiye.
Guests also enjoyed Japanese food and a Japanese kendo performance by the Embassy staff.
The JSDF Day was originally celebrated when the Japan Defense Agency(upgraded to the Ministry in 2007) and the JSDF were established on July 1st, 1954, but the date has been changed to November 1st as the JSDF are expected to respond to natural disasters such as frequent typhoons in summer season in Japan.