Govt has achieved major successes against terrorism through sacrifices: Sartaj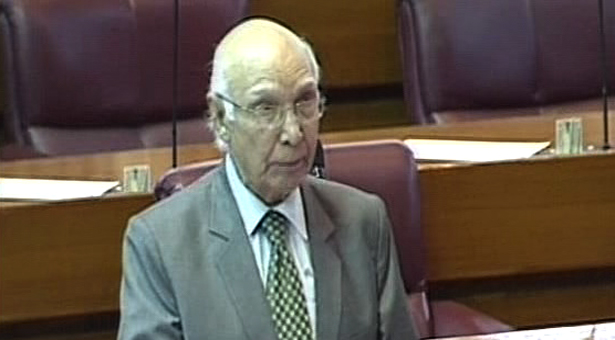 ISLAMABAD, 26 OCT (DNA) – Adviser to the Prime Minister on Foreign Affairs, Sartaj Aziz Wednesday said, "The government has achieved major successes against terrorism in recent times which can be attributed to the domestic consensus against terrorism and the tremendous efforts and sacrifices made by our security forces."
He expressed these views while talking to Executive Director of UN Counter Terrorism Executive Directorate (UN CTED), Mr. Jean-Paul Laborde who is on a visit to Pakistan from 24 to 25 October 2016. The Foreign Secretary was also present during the meeting.
The Adviser recalled the geo-political developments that had led to the rise of the phenomenon of terrorism in the region during the last decades. This had placed Pakistan in the forefront of the international community's fight against terrorism. He highlighted the significant contribution and sacrifice of Pakistan in the global counter-terrorism efforts, the Foreign Office said.
"As a result, the number of terrorist attacks in the country had declined by more than 60% this year and was expected to reduce further over the coming year," the adviser said.  "The nation was determined to wipe out this menace from the country," he added.
The Adviser noted that Pakistan's counter-terrorism efforts were guided by the National Plan of Action which was a comprehensive 20 point strategy adopted following the tragic attack on the Army Public School Peshawar in December 2014.
The National Action Plan (NAP) was a long term plan under which the Government was taking a number of actions from law enforcement to tackling violent extremism. He expressed Pakistan's readiness to share the good practices and lessons learned in its fight against terrorism with the international community
The Adviser also noted that Pakistan was a major victim of terrorism, including state sponsored acts of terrorism and subversion by India aimed at creating instability in Pakistan.
The Executive Director of CTED appreciated the tremendous sacrifices and efforts by Pakistan in the global counter-terrorism campaign. He also noted Pakistan's major contribution to the discussions on counter-terrorism at the United Nations, especially for the adoption of the United Nations' Global Counter Terrorism Strategy.
He said that, "The international community must not only acknowledge the successes achieved by Pakistan in counter-terrorism but also learn from Pakistan's experience."
The Executive Director also had a meeting with the Additional Secretary (UN&EC) during which the two sides exchanged views on various aspects of international cooperation in counter-terrorism.  The visiting delegation was briefed in detail about Pakistan's efforts to counter-terrorism. DNA