Danish ambassador exhorts girl guides to work for girls' empowerment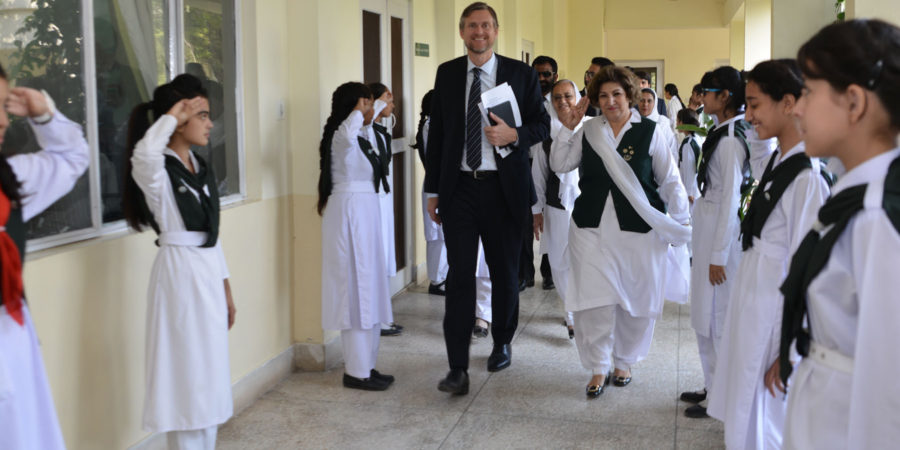 ISLAMABAD, OCT 26 (DNA) -The Ambassador of Denmark Ole Thonke has emphasized upon girl guides to play an active role for the empowerment of the girls.
Ambassador Thonke said that at a time, where Pakistan is facing many challenges for young women and girls, the young Guides were each a strong example of what it means to be young, ambitious and inspirational young women in Pakistan.
"You are indeed agents of change as you hold the ability to translate your ideas into actions and are committed to bringing positive change for the communities around you – and for Pakistan. For that, I thank you", said Ambassador Thonke in his address to the young Guides.
During the ceremony one minute of silence was observed for the martyrs of Quetta incident.
Senator Nuzhat Sadiq, National Commissioner in her welcome address informed that Pakistan Girl Guides Association is working in Baluchistan, Punjab, Sindh, Khyber Pakhtunkhwa, Islamabad Capital Territory, Gilgit Baltistan and Azad Jammu & Kashmir.
She informed the Guides about the history and importance of the international day of the Girl and what Guides do to achieve the sustainable development goals at National & International level.
She emphasized that the most important aspect of Guiding is that it provides opportunities to the girls to develop their hidden potentials and leadership skills.
She stated that in Guide Movement great emphasis is laid on character building & service and thousands of girls have received this training. Guides of Islamabad presented the Guide songs which were much appreciated by the Chief Guest.
Mrs. Farhana Qamar (MNA), Mrs. Saeeda Mushtaq and members of Pakistan Girl Guides Association also attended the ceremony.   =DNA
==============