Reconciliation and dialogue key to region peace: Sartaj Aziz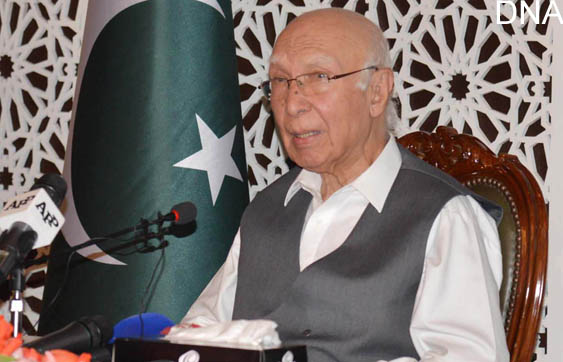 ISLAMABAD, OCT 14 (DNA) – India is trying to score political points and divert attention from the Kashmir issue, National Advisor on Foreign Affairs, Sartaj Aziz said.
He said the fact of the matter is that Pakistan has made remarkable progress in the last few years against the menace of terrorism. The armed forces have destroyed infrastructure, and decimated the enemy hideouts.  A clean-up operation is being coordinated by through various intelligence-led operations across the country.
Sartaj Aziz made these remarks while speaking to a Chinese delegation from the China Association for Friendship (CAF), here on invitation from the Center for Research and Security Studies.
The CAF delegation is in Pakistan for four days for a people to people exchange of ideas and improved coordination between the two countries. The contingent is led by Mr. Chen Shaoxin, Deputy Secretary General of CAF and bolstered by prominent scholars, professors and researchers.
Mr. Sartaj Aziz also said that the anti-terrorism operation has taken special care to completely eliminate any members or infrastructure of the East Turkmenistan Islamic Movement (ETIM) presence in Pakistan.
 "Enemies of China are enemies of Pakistan", he said. "We cannot and will not allow them any refuge in Pakistan.
Speaking on Pakistan's strategy moving forward, he said that the state is following a three-pronged strategy. First, Pakistan is strictly following a policy of non-interference. Second, Pakistan is determined not to allow any part of its soil to be used for the nefarious purposes of terrorism.
Finally, Pakistan is keen to promote reconciliation and dialogue to facilitate peace in the region, especially in the Afghanistan peace process.
He also said that Pakistan cannot accept the Indian dominance narrative perpetrated by a very vocal and aggressive Modi government.
"Even if we cannot immediately solve Kashmir, it does not mean we cannot talk about it. We have to come to the table, and keep talking about political solutions. We may not make progress on one thing, but we will make headway in another."
Other members of the CAF delegation included Mr. Wang Xu, Executive Deputy Director, Center for South Asian Studies, Peking University, Mr. Ye Hailin, Director, Center for South Asian Studies, and Mr. Li Wei, from the China Institute of Contemporary International Relations. The Pakistan contingent was led by renowned security sector specialists Dr. Shoaib Suddle, and Mr. Imtiaz Gul.=DNA