RCCI President calls on Ambassador of Czech Republic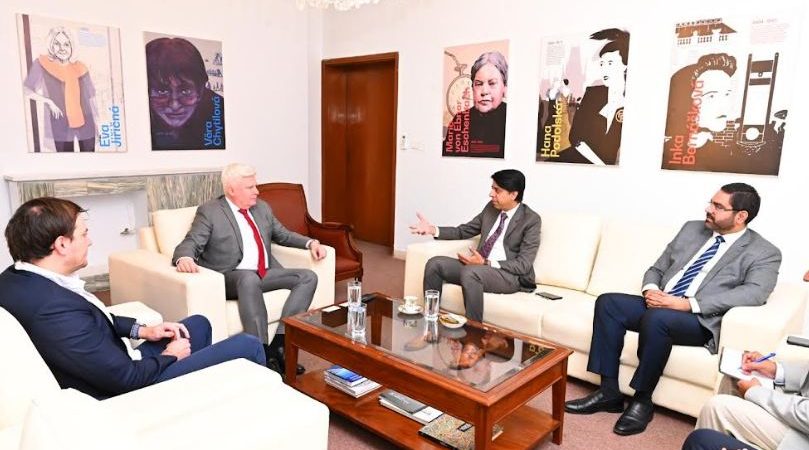 DNA
Rawalpindi: The Rawalpindi Chamber of Commerce and Industry (RCCI) President RCCI Saqib Rafiq called on Ladislav Steinhübel, Ambassador of the Czech Republic in Islamabad. Senior Vice President Muhammad Hamza Sarosh was also present at the meeting.
RCCI President Saqib Rafiq gave a short briefing on chamber current activities and future programs. He said that the Czech Republic had a very vast scope for Pakistani goods. The existing trade volume between the two countries was low and needed to be raised through frequent exchange of delegations. RCCI President who also has the portfolio of Chairman Rawalpindi Waste Management Company (RWMC) discussed scope and opportunities in waste management, recycling the waste and energy from the waste.
Matters related to enhancing bilateral trade, investment opportunities, sector specific information sharing, waste management and recycling, green energy, networking and chamber to chamber connectivity, exploring non-conventional sectors Gem Stone, IT Tourism, Pharma, visit of trade delegation and facilities for investors and Ease of Doing Business (EODB) under Special Investment Facilitation Council (SIFC) came under discussion.
Ladislav Steinhübel welcomed the delegation and appreciated RCCI efforts in promoting trade activities in the region. The envoy expressed that Pakistan and Czech Republic enjoys a friendly and cordial relationship and a lot of potential exists to enhance the relationship between both countries. He assured full support and assistance from his office for information sharing, chamber to chamber connectivity and possible joint ventures in various sectors.