Raid on Zulfiqar Mirza house, supporters detained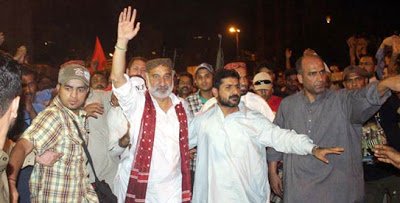 KARACHI: A heavy contingent of police on Friday entered the residence of disgruntled and disowned leader of the Pakistan Peoples Party and Sindh's former home minister Dr Zulfiqar Ali Mirza in Phase V of Defence Housing Authority (DHA) and arrested several supporters.
At least four police mobile vans and several armoured personnel carriers took part in the raid.
Security personnel, acting on information about the presence of wanted persons who had not been granted bail, conducted the raid during which eight to ten supporters of the former provincial home minister including two of his guards were arrested.
The raiding party left the premises after arresting the suspects though several police vans remain in the vicinity. Sources say that additional contingents of police had been sought.
Earlier on Tuesday, the disowned PPP leader thwarted the provincial government's efforts to arrest him as the Sindh High Court on his plea not only restrained law-enforcers from arresting him, but also served on the provincial and city police chiefs show-cause notices for attempting to take him into custody despite his being on protective bail in all 13 cases registered against him and his associates.
Mirza, who reached an antiterrorism court at around 11am, confined himself inside the courtroom for over eight hours as extraordinary security arrangements were made with hundreds of policemen surrounding the ATC, located adjacent to the SHC.
The former home minister of Sindh is facing multiple cases in Karachi and Badin, along with his associates.
Earlier this month, Mirza along with his associates was initially booked in three cases under the Anti-Terrorism Act on charges of attempted murder, attacking a police station and forcible closure of shops in a market of Badin district.
But following the registration of cases against the disgruntled PPP leader, the situation in Badin turned tense when police laid siege to Mirza's farmhouse to arrest him and his associates.
Dr Mirza was on May 8 restrained by the SHC from making malicious statements on an application of Ms Talpur, who had become an intervener in his constitutional petition against withdrawal of police guards earlier posted for his security.
Mirza has on numerous occasions levied allegations of corruption at the Sindh government as well. In February this year, Mirza was ousted from the PPP's central executive committee for his outbursts against Zardari.
Later, two more case were registered against Mirza on charges of attempted murder and obstructing public servants from performing their duties.
So far, the disowned PPP leader has been granted pre-arrest bail in all the cases registered against him. Mirza claims all cases against him are politically motivated. =DNA
=========