PTI rebuffs FIA's challan against Khan, Qureshi in cipher case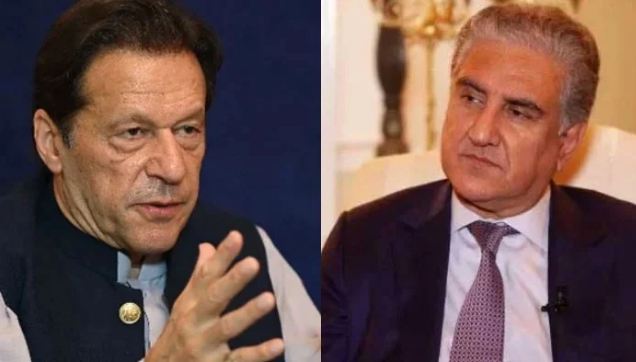 Refreshes demand of empowered penal to bring facts before nation
Says any verdict after unlawful proceeding would neither legal nor be acceptable to nation
ISLAMABAD: /DNA/ – Pakistan Tehreek-e-Insaf (PTI) spokesperson vehemently rejected the FIA's challan submitted to the court in cipher case and reiterated the party's stance seeking formation of an empowered high level judicial commission to probe the cipher so as to bring the truth to the fore.
PTI spokesperson said that the FIA's challan submitted against PTI Chairman Imran Khan and Vice-Chairman Shah Mahmood Qureshi was meaningless and worthless like the fake and bogus cipher case itself.
He said: "It is the fact that the cipher is still present in the Foreign Office in its original state, which is proving the allegations leveled against the former prime minister are baseless."
PTI spokesperson stated that the federal cabinet declassified the paraphrased version of the Cipher which the foreign office provided after which the Official Secrets Act could not be applied and the case died by its own death, as the original cipher is coded and only the foreign office has access to it.
He recalled that PTI Chairman repeatedly demanded an independent and impartial investigation of the cipher, for which letters were also sent to the Chief Justice and the President of the country, but no progress had been made till date.
PTI spokesperson went on to say that new traditions of injustice have been established from the holding secret trial in the jail to the unjustified postponement of the court proceedings of cipher case, adding that any decision given as a result of the illegal proceedings of a baseless case would have neither any legal standing nor would the nation accept it.
He reiterated that in order to fulfill the demands of justice, an independent and fair judicial commission should be constituted to investigate the cipher in order to bring facts before the nation.