PTI not being taken into confidence over electoral reforms: Qureshi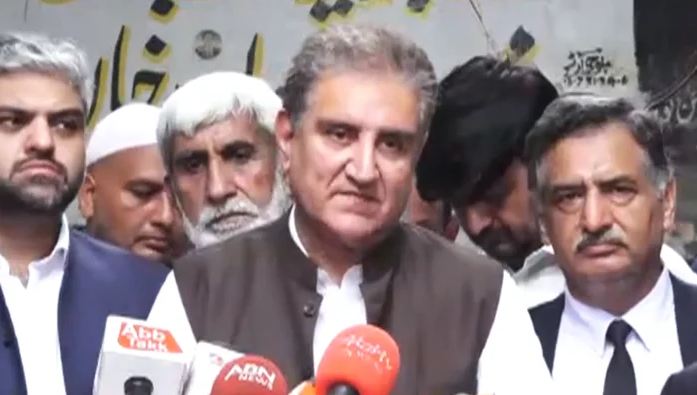 MULTAN: Pakistan Tehreek-e-Insaf (PTI) Vice Chairman Shah Mahmood Qureshi said Monday that his party was not being taken into confidence over election reforms despite being a major stakeholder.
"Section 9 of the Election Act 2017 is very vague," he remarked during a media talk at a district kacheri in Multan.
The Parliamentary Committee on Electoral Reforms expedited the work on the amendments to the election laws by examining 73 rectification proposals presented before it, The News reported last week.
The PTI VC slammed the leading coalition party and said: "[The] PML-N is suffering from instability.
"The PTI chairman has gotten relief from the courts despite the fact that the government is fabricating cases against him."
Furthermore, Qureshi commented on the PM's announcement to dissolve the assembly ahead of its stipulated date.
Prime Minister Shehbaz Sharif announced that his government would leave before completing its tenure.
"Next month our government will complete its tenure. We will leave before the completion of our tenure and an interim government will come," he said.
If the government were to do so, they could buy time ahead of polls as the Constitution provides elections will be conducted after 90 days if assemblies are dissolved ahead of time. If they are dissolved as stipulated, the Constitution mandates elections be held in 60 days.
Speaking on the matter, Quershi remarked: "It seems that the government is leaning towards 90-day elections. However, the date of the election has to be been given by the election commission."
Dubai huddle
Merely days after two major coalition partners — Pakistan Peoples Party (PPP) and Pakistan Muslim League-Nawaz (PML-N) — held parleys in Dubai, Qureshi also said no one was aware of the discussions that had taken place in the Gulf state.
The PTI vice chairman said that "decisions made in Dubai" had been sealed by the "session in Lahore" — a hint towards the meeting between PM Shehbaz and PPP Co-chairman Asif Ali Zardari.
While the agenda of the meeting was never publicised, it is speculated that the coalition government leaders discussed important matters, including prevailing economic challenges and the upcoming general elections.
Then, Zardari met PM Shehbaz in Lahore over the weekend. During this meeting, matters pertaining to the country's overall political situation, caretaker set-up and other issues were discussed.
"There has been a discussion between two elders, and the rest do not know anything about it," Qureshi said, adding that only time would tell what would happen.