PTI Chairman moves SJC for declaring Chairman NAB ineligible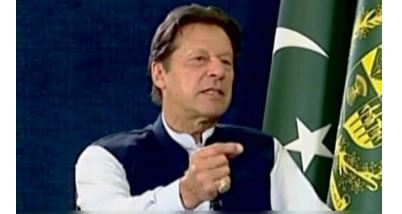 DNA
ISLAMABAD, JUN 7: Pakistan Tehreek-e-Insaf (PTI) Chairman Imran Khan approached the Supreme Judicial Council (SJC) against Chairman NAB Lt Gen (Rtd) Nazir Ahmed, demanding to declare him ineligible to perform his duties for violating the code of conduct.
An application was filed under Article 209 of the Constitution and Section 6 of the NAB Ordinance in the SJC against Chairman NAB on Wednesday.
It was said that the complainant was a well-respected, well reputed, responsible and law-abiding citizen of Islamic Republic of Pakistan. He is politician who has served as the 22nd Prime Minister of Islamic Republic of Pakistan from August 2018 until April 2022.
As a founder and chairman of SKMT, Imran Khan collected approximately Rs. 10 billion annually as charity.
In was said in the application that Imran Khan had been declared as Sadiq and Ameen under Article 62(1)(1) by the august Supreme Court of Pakistan. Despite registration of more than hundred frivolous, bogus and politically motivated cases against him, he has always cooperated with law enforcement agencies for investigation purposes.
PTI Chairman pleaded that Chairman NAB issued warrants for his arrest on May 1, on a holiday, in violation of Section 24 of NAB Ordinance, who even kept the warrants secret for 8 days.
"The Arrest of the Complainant was executed in a manner which is violative of his fundamental rights available to him under the Constitution of Pakistan, in particular Articles 4, 9, 10-A and 14. Through the execution of Arrest Warrant, the impression that went to the world is that the Complainant is a hardcore terrorist or mercenary or enemy of the state or habitual criminal or a wanted fugitive," it was said.
The petition reads: "During execution of the Arrest Warrant dated 01.05.2023, the Complainant, without any reason and justification, was dragged, manhandled, beaten and injured by Pakistan Rangers which were working in coordination with NAB."
Imran Khan pleaded that the actions of Chairman NAB right from issuance of the Arrest Warrant till execution of the same suffer from irregularities, illegalities, malafide, indicating he deliberately acted in an arbitrary, unlawful and unconstitutional manner.
Imran Khan said that he was deliberately not told about Al-Qadir Trust's inquiry being turned into an investigation, adding that keeping the issue of conversion of inquiry into investigation a secret was a violation of NAB law.
He went on to say that complying with the warrant of arrest and the Rangers arrested him completely illegal, adding that the Supreme Court in its order of May 11 declared the execution of warrants and the entire process of arrest by Rangers illegal.
PTI Chairman stated that Chairman NAB was found guilty of serious misconduct and violation of his code of conduct; hence he was not able to continue on the post.
Imran Khan demanded that Chairman NAB should be removed immediately.
Imran Khan pleaded that the SJC had ample jurisdiction to proceed against Chairman NAB Ahmad on the same grounds which were required for proceeding against the judges of superior courts.
Earlier, PTI Chairman also initiated defamation proceedings against Chairman NAB and sent a notice of damages of Rs. 15 billion to him on June 1.